How to hang a gallery wall: Your step-by-step guide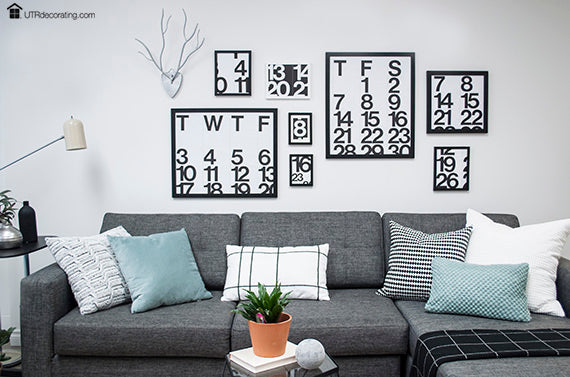 If you envy the beautiful gallery walls you see on the pages of glossy design magazines, on your favorite decorating TV shows or scrolling through pictures on Pinterest, you're not alone. Most of us will never attempt to create a gallery wall because, let's be honest, it can be very intimidating. Where do you start? Left, middle, right, up, down, all around?! There are a lot of questions to be answered. But the good news is, I've got some tips and tricks to help you get started. Follow these steps, and you'll have a gallery wall that rivals the Louvres in no time! Let's get started!
If you're a regular reader of my blog, you'll remember seeing this photo, where I showed you how I made this modern black and white art using pages of my favorite calendar. If you missed it, you can see it right here.
Even when you hang a gallery wall freestyle like I've done here (where there seems to be no evident reason as to the placement of each frame), there is actually a thought process.  Here's how and why I created my gallery wall.
1. How many frames and what size should they be?

My sectional sofa is quite large so I made sure to have enough frames to fill at least 3/4 of the wall space. It's all about having enough weight above the sofa to counter balance the size of it.
To make your gallery wall visually interesting, hang different sizes of frames and play around with the orientation (vertically or horizontally).
2. Deciding on artwork

If it's your first attempt at a gallery wall, I'd highly recommend starting with black and white art or photographs so that you don't have to worry about colors clashing with each other. Also, black and white is neutral, so it's guaranteed to match your home décor. If possible, choose same color frames so that all you have to worry about is hanging your art. Here, I chose black frames because they pop against the white wall and they look stylish with the grey sofa and pillows.
Trust me, you don't have to spend a fortune on your art, half the battle is how you hang it. You can own the most expensive pieces but if they're not hung properly, they won't look expensive.
Once you've got it down pat, feel free to play around with different textures, colors and dimensions, like I did with the antlers in the corner.
3. Decide on the layout 
Every time I hang a gallery, the first thing I do is figure out my layout by placing the frames on the floor. When possible, I do this floor display ritual right in front of the wall where I'm about to hang my gallery. By setting up on the floor, you can easily move the frames around until you get your desired look and you can properly balance it out. 
A well-balanced wall means having a similar amount of weight on the right and on the left. If you were to draw a straight line in the middle of your display, you could see that the 2 sides are proportionally even.
4. Have the right tools on hand 

Having the right tools to hang your pictures will save you time and potentially save your walls from dreaded mistake holes too! So take the time to acquire the proper tools before getting started. 
For this project, I used my Hang & Level, which allows me to find the perfect spot to hammer in the nail for each frame. If you've seen how this tool works, you'll understand why I never hang pictures without it.
I used my Déco Hammer – it's smaller than a regular carpenter's hammer and it fits perfectly in my back pocket, which is quite handy. I also used one Déco Nail per frame.
5. Where do I start?

Figuring out where to begin is key to avoid ending up with a wall that looks like a slice of Swiss cheese! A lot of work goes into hanging a gallery, so have a plan in mind before you start hammering away. 
Above, you'll see the frames I chose to hang first, second and third etc…Wouldn't it be great if frames magically hung themselves to create the exact look you had in mind?! I digress.
Note: Although the spacing looks similar between frames, I didn't measure anything. The spacing looks consistent because I didn't over-exaggerate it between frames. I hung each one according to the layout plan I created on the floor (see number 2).
It might not look like it, but there is a method to my madness, here's what I did.
Hang-by-number: 

#1: Centered the small frame with the middle of the sofa.
#2: Lined up with the frame below.
#3 and #4: Placed large frames on the left and right to create balance.
#5: Hung so the bottom of it almost matches frame #3.
#6: Added more visual weight to the half portion of the red line.
#7 and #8: These smaller framed filled the blank spaces I was left with.
About the antlers: I had not planned to hang them, but after all of my frames were hung I felt that something was missing. I tested them out and I liked the look so I hung them up. Having a 3D accessory as part of the gallery jazzes up the wall and breaks up all the sea of numbers. What do you think?
6. Hanging the frames – the fun part
I can hear you say "ya, right, the fun part." Well, it truly is if you've taken the time to do the prep work and if you have the right tools. I'm serious! If you don't believe me, come "hang out" with me for a day, and I'll show you what I mean. 
If your sofa is right against the wall like mine is, use it as your step stool. There's no need to move the sofa (or other piece of furniture) away from the wall – it's actually easier to build a gallery or to hang any other art when it's exactly where it's supposed to be. It makes it easier to see the results as you go and tweak your hanging plan if needed.
Helpful tips: 
When figuring out your display on the floor, take a picture with your phone or tablet so that you can refer to it when you're hanging. It's amazing how helpful it is.
If possible, leave the display on the floor and grab one frame at a time to hang it. It makes it easier to remember what goes where.
Stand back after hanging each frame to figure out the spacing and height of each.
When starting the gallery, hang your focal point frames first (#1 & #2), then hang the larger frames like I did. You'll then be able to fill the gaps with smaller frames.
Add an unexpected element to your gallery, like I did with the antlers. It could be anything. (Floating shelf, sconce, mirror etc.).
When you have a lot of frames on your wall, it's tough (almost impossible) to keep all of them perfectly straight. You can solve that problem by placing small

 

anchor points

 

on the bottom corners of each frame. It'll keep them all straight as arrows, you'll never have to worry about re-leveling, even after dusting.
7. Accessorizing the sofa 

Since the artwork is quite busy, I accessorized my sofa with a combination of solid colored cushions and added texture. The seafoam (light blue/green) cushions add softness to the bold black and white combination.
As for how many pillows to use, I used the same "red line" trick (shown above) with my sofa. I have the same number of pillows on both sides, and I added the black checkered throw blanket to soften the chaise side. Without it, there's too much grey showing.
If you're looking for a different gallery style, have a look at the following articles I wrote. They all differ in style, art, and number of frames.
I hope you find a look that you like and can recreate it in your home.
 How to create the perfect gallery wall with 9 frames
Decorate your walls with black and white photos
 How to avoid making extra holes while creating your gallery
Pretty pastels create a relaxing atmosphere in the bedroom
Did you find a gallery look you like? As always, I'm listening. Feedback, comments, questions can be left in the comment box below.
Thanks for dropping by,
Liette Tousignant
Co-Founder of Under The Roof Decorating