How to get IKEA Ribba Frames to Behave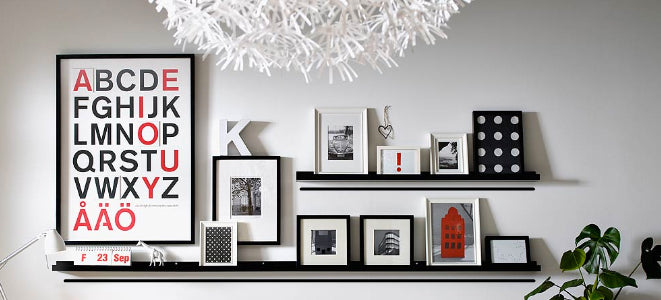 We love Ribba

frames from IKEA. They're inexpensive, stylish and versatile. But they can be frustrating as well. We've hung more Ribba frames over the years than we can count and along the way we've come up with some tips and tricks to make things easier. We hope they help you too.
Problem: The Wire that comes with the frames is stiff and hard to twist.

Buy a roll of galvanized braided picture hanging wire. Choose the wire that holds up to 20 lbs. It's strong, easy to twist, loops very easily around the metal clips and doesn't look bulky when using on smaller lighter frames.
Where do I place the metal clips on the back of the frame?

Place the clips 1/3 of the way down from the top of the frame. This rule of thumb works with any size of frame, and will make sure your frame hangs nicely against the wall.
How do I get the wire onto the frame?

If fishing the wire through the clip proves to be challenging, simply bend the tip of the wire and feed it through the hole.
Loop the wire through the clip, leaving 1 ½" of extra wire.
Twist the wire tightly around itself several times. Keep the ends face down (towards the picture) to avoid scratching your walls.
Stretch the wire to the top of the frame to determine the total length of wire you need. Add 1 ½" of extra wire and cut to length. Insert the end through the second clip, and twist the wire tight.
Make sure the wire doesn't go over the top of the frame, and you're done!
How to attach a sawtooth hook to a frame.
Find the centre of the frame.
Make a pencil mark at the centre point.
Align the middle of the sawtooth hook with the mark (note: some sawtooth hooks have a mark in the middle to make this step easier).
Make sure the hanger can't be seen from above the top of the frame.
Using a hammer, gently tap in the nails.
Some sawtooth hooks come with screws rather than nails. If using screws, pre-drill the holes using a small drill bit to prevent the frame from splitting and be sure not to over-tighten them, which could also cause the frame to split.
Quick tip:
How do I get those IKEA stickers off the back of the frame?
It's almost impossible to remove the sticker so simply flip the back panel of the frame around to hide the sticker
As a bonus, you'll find that the metal clips seem to hold a little more securely on this side
What are you "hang ups" with picture hanging? I'd love to hear from you, please share in the comment box below.
Liette Tousignant
Co-Founder of Under The Roof Decorating