How hang a mirror above a couch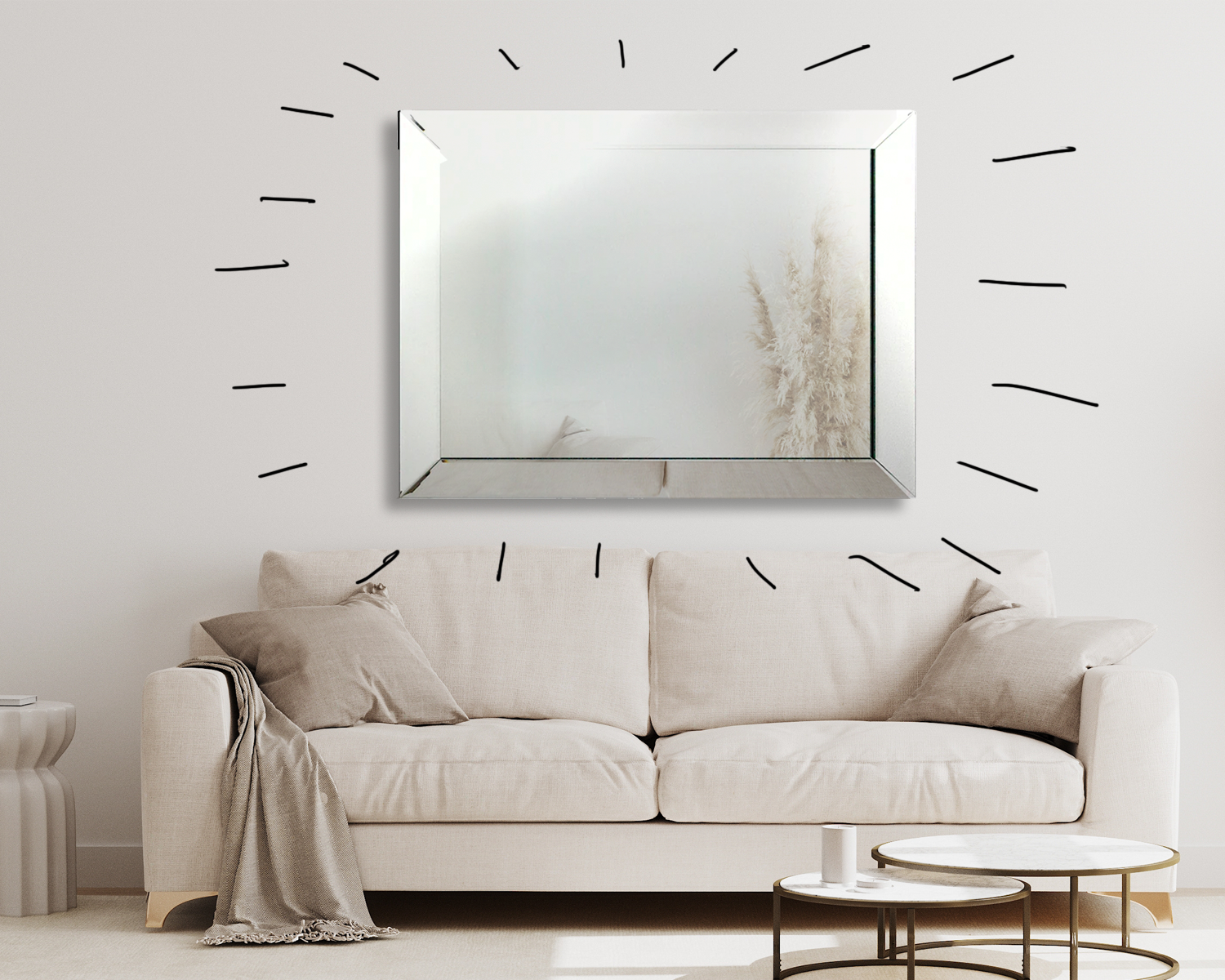 Hanging a mirror above a couch can brighten your space and make a room look larger. However, there are a few things to keep in mind when decorating with mirrors. Use these tips to assess the ambience a mirror will bring to your room and then hang it like a pro.
Tips for decorating with mirrors
Decorating with mirrors is similar to hanging other wall décor items, but they have some unique properties that need to be considered when using them in your space. Mirrors can be positioned to reflect parts of a room, bring in more light and make a smaller area appear to be much larger. Since they also reflect whatever is directly opposite, you'll need to take note of what will appear in the mirror from across the room. You may have to adjust your furniture or the wall décor opposite the mirror. 
What is the right size
When hanging any wall décor above a couch it's best to fill at least ⅔ of the length of the couch to create a balanced look. You can achieve this with a single piece, which can serve as a focal point for your room as well. Often larger mirrors have thick or elaborate frames that can draw attention to them when you walk into a room and they help to fill up space, too. Alternatively, you can use multiple mirrors or group a mirror with other wall décor to fill the same size footprint. The choice of hanging a single item or multiple pieces will depend on your own preferences and the style you want to create. There are no right and wrong answers so trust your instincts and do what looks best to you.
How high to hang the mirror
Hanging your mirror at the right height above the sofa is important so that it looks anchored to the furniture. Typically, we hang wall décor items about 8 - 10" above a couch. Because mirrors are heavy and may have a large frame you want to make sure you don't bump it with your head, so there may be times when we can adjust this general rule to hang it a bit higher. Try out a few options by having a friend hold the mirror in place to get the just the right height.
Hang it securely
Mirrors can be heavy, so use hardware with the right rating for the weight of your mirror. We designed DécoScrews™ specifically to hang heavier wall décor, up to 30 lbs (15 kg) securely in drywall. They act as a screw and anchor in one and can be easily installed using a Philips or flathead screwdriver. See how we used DécoScrews to hang a heavy mirror here.
We love designing products to make decorating easy and help people create spaces that bring them joy. Click on the live chat below or email us at: questions@utrdecorating.com, and we'll do our best to help you Create the home you love™
-The UTR Team