Holiday DIY: Red and White Toolbox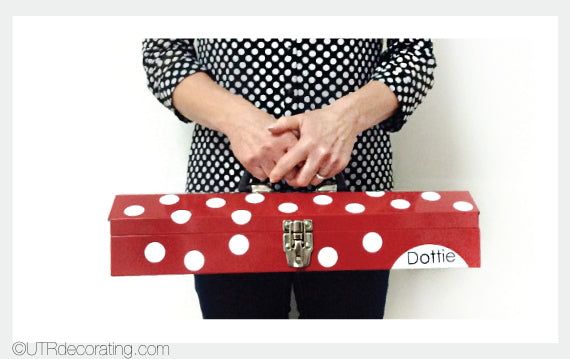 This holiday season I decided to get crafty and make my own gift boxes and fill them with fun gifts for family and friends. You'll love this red and white polka dot tool box DIY: it's quick and easy to make, there's no messy painting, sewing or gluing involved, and no special skills are required.
Here's what we did:
We bought a basic red carpenter's toolbox, which are available at any large DIY retail store. We love the red since it's a traditional color for the holidays.
 We used different size of hole punch widgets we bought at Michaels to make the white polka dots. You can either buy pre-cut dot decals or make your own like we did. To avoid waste and save money, we punched the dots out of the blank parts between some wall decals we already had. We've saved the decals for another DIY project.
These are the 1 1/2 inch size dots we made. You can make them all the same size or keep them varied, depending on the type of hole punch you buy. Be as creative as you want to be.
 Peeling off the backing turned out to be the most challenging part for me.
Stick the dots to your box, space them evenly, or go free style — there are no rules here. We made a large 1/2 moon to cover up the Mastercraft logo on the toolbox and wrote my name on it since I was keeping the box for myself. (see above)
Here's a Fitness Nut toolbox I'll be giving to a friend. Inside, I included passes to a gym, a fitness DVD, an exercise stretch band, water bottle, towel, fitness magazine, headband, lip balm — everything needed to stay fit or to get fit.
Here's another box we did using one-inch sized dots evenly spaced. If you like "Dottie," our red and white polka dot box, we're giving you a chance to win it! Stay tuned, we'll reveal all the contest information next week. Note that we'll customize a label with your name on it or with the name of the person you want to give the box to.
Total cost:
Toolbox: $18 CAN
White polka dots: a few dollars
Hole punch widget:  $12 CAN with coupon
Plus: time, creativity and goodies you'll include
Right now, we're giving away one of these fabulous boxes, full of our tools and a Target gift card.  Enter by November 25th to win!
Liette Tousignant
I'm passionate about picture hanging and wall decorating (and I'm also the Founder of Under The Roof Decorating)