Hanging art and objects together in a gallery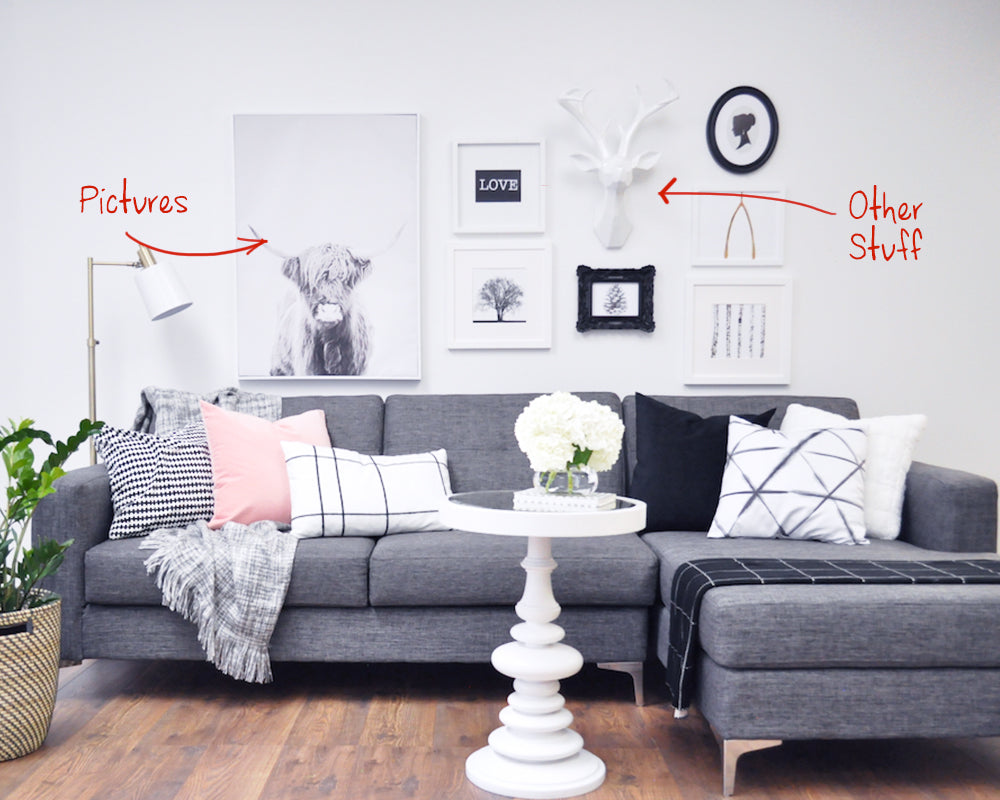 Combining art and wall décor items together is a fun way to create interesting and visually engaging spaces. Arranging a display of this kind so it looks balanced and pleasing can be a bit trickier then when hanging only pictures. But don't fret. These decorating tips are easy to apply so you can create groupings with different pieces of wall décor so they look great, and express your personality, too.
Gather your items
Think of this collection of wall décor as a way for you to create a story while sharing your personality and style. The items you select for the arrangement can reflect your interests, hobbies, travels or simply things you like or that inspire you. When we are creating these collections, we try to have one thing in common for all the items. For example, all images of the same subject matter, or from the same place, or a trip you took recently. The common thread can even be the frame color or simply that the items share a similar color palette. Thinking about having one thing in common will help build the collection and the story it tells. 
Tip: Gather enough items to fill the area you want to decorate. It's good to have a few more pieces than you need to use so you have some creative options while planning the display. 
Have fun trying out different looks
Be ready to have some fun! Try different arrangements by laying out everything on the floor. There is no right or wrong way to arrange things, as it depends on the shape and size of the items you've selected, but trying out different options on the floor is a lot faster and easier than doing it right on the wall. 
Tip: if you have a specific shape and size of area you want to fill out on the wall, you can mark this area out on the floor using masking tape. Then you can arrange your items inside this area knowing how much space it will take up on the wall when you are done.
Display layouts 
There are lots of different approaches you can take when laying out a display. You can arrange the gallery to fill a specific area, to take up more horizontal or vertical space in a room, or break the gallery into multiple groups. No matter the shape of the display, you can use the guidelines below to help get it looking balanced and professional.
Arranging items of different sizes, shapes & textures
The real challenge with combining art and other wall décor is the different shapes, sizes, textures that are in the mix. So how do you arrange and space the items together so that they look balanced and harmonious? 
If you have a piece that you want to make the center of focus of the arrangement, start by putting that in the middle. Similarly, if one of the pieces is a lot bigger than the others, try putting that one in the middle and building out around it. From there you can start placing the other items around it and see how it evolves. There are no right or wrong ways of doing this, but there are a couple of principles (visual weight and spacing) that you can keep in mind to make the end result as balanced looking as possible.
Tip: Take pictures of each arrangement by standing above it. You can go back to compare and contrast different looks. Looking at the gallery on a screen versus in real life will give you a different perspective on the overall look of the grouping and may lead you to trying some new variations. 
Visual Weight & Balance
The term visual weight basically refers to how heavy something looks on the wall. This is directly influenced by a number of things like color, contrast with the wall, and thickness or size of the item and the frame. For example, large, dark or heavily textured items have more visual weights than small, light or smooth pieces. 
The more visual weight an object has the more it draws attention, so ideally it needs to be placed in the arrangement where it will look most balanced. Generally, hang the items with the highest visual weight in the center of a display with other pieces clustered around it, or the bottom center position to anchor the display, with items either above it or to each side of it. 
Tip: Think of a gallery as a see-saw, where the items on the left hand side of the centerline should be balanced with the items on the right hand side. If the arrangement seems lopsided, you can balance it out by adding another visually heavy item on the other side, or by moving the visually heavy item towards the middle.
Spacing
Typically in any kind of arrangement, using consistent spacing between items is the easiest approach to create balance. In a display with both pictures and other types of wall décor, spacing may need to be tweaked between some of the items. This is particularly true for items that are not rectangular. Oval pieces because of their shape can be placed closer to other items. Even the visual weight can influence the spacing - for example items with a lot of visual weight may need a little more space around them than items with a light visual weight.
Tip: Start by hanging everything with the same spacing. Then you will quickly see if any of your items look like they are a little cramped and need more space around them, or if they feel like they are floating by themselves and need a little less. Taking a photo of your arrangement and looking at the photo will make this a lot easier to see! 
Your display, your way 
Once you've got the arrangement figured out, the final step is to get it up on the wall! Generally speaking, it's easiest to either start from the bottom of the arrangement and work your way up, or if there is a feature item in the center of the display, you may want to start by hanging that in the spot you want it and hang the rest of the items out from it. 
At the end of the day there is no right or wrong way to approach a display of mixed wall decor, as long as it looks good to you that's all that matters! But by selecting items that tell a story, and arranging them while keeping the principles of visual weight and spacing in mind, you can create something that is visually engaging, balanced and uniquely yours.
We love designing products to make decorating easy and help people create spaces that bring them joy. Click on the live chat below or email us at: questions@utrdecorating.com, and we'll do our best to help you Create the home you love™
-The UTR Team