Hang & Level – Can I borrow it?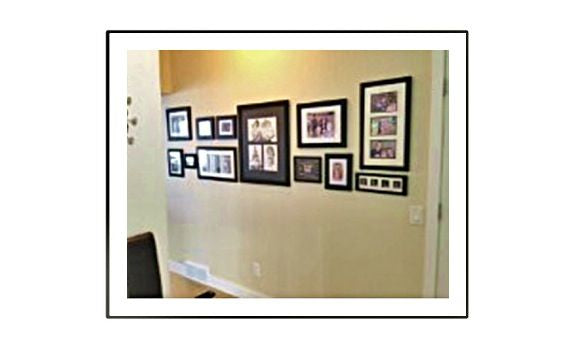 What's the point of having good friends if they can't help you hang your pictures?
Our friend Tracy was visiting her friend Jackie, while Jackie was hanging some pictures in her home. Tracy said "I have the perfect tool to help you do that: Hang & Level!"
From what we heard, Jackie's last attempt at hanging a gallery wall did not go well:  "I put a bunch of unnecessary holes in my wall," she said. "This time using Hang & Level was SO much better."
Check out Jackie's beautiful entryway family wall that she hung using Hang & Level.
Great job Jackie, and thanks for sharing. We love how you hung your display, making good use of horizontal space in your hallway and what a great place to display your family photos to admire them everyday. Also, since these frames are in such a high traffic area, we will be sending Jackie some Anchor Points to keep her artwork nice and straight.
Congrats again, and thank you for sharing.
At Under The Roof Decorating, we make picture hanging easy. Our innovative products and helpful tips make it simple to hang almost anything wherever you want – and get it right the first time!