Hang heavy décor securely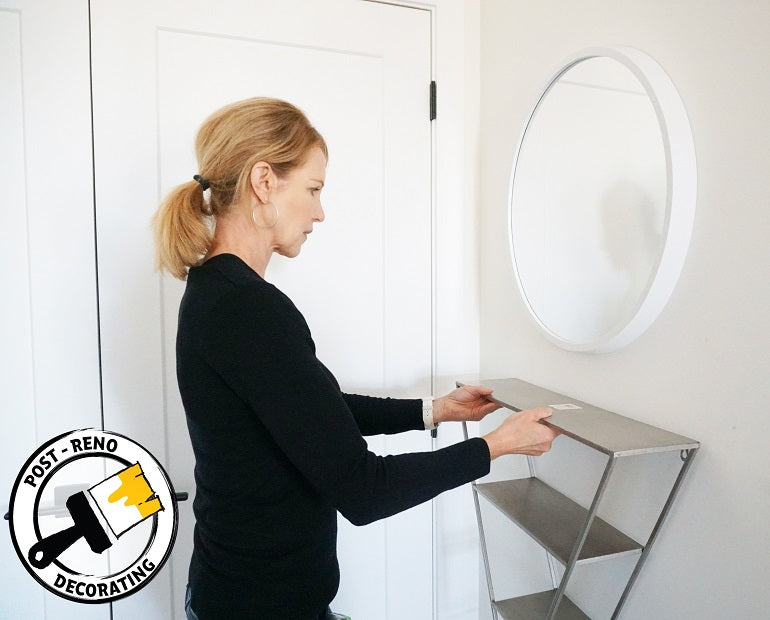 This is prime renovation season, so we want to be there to help you get your art back up on the walls without any delays. Over the past three weeks we've been sharing decorating tips to help you
create the home you love™
. We profiled a few of our time saving picture hanging tools that we've designed to make the job a whole lot more enjoyable for you. Check out our blog page to see the entire series. 

Hanging large décor 
Mirrors are a great addition to your home as they create the appearance of depth and space, making a room feel bigger. This means that they are a wonderful addition to hallways, staircases and small rooms. The only problem is mirrors and large décor can be tricky to hang. 
You can trust DécoScrews™ to hold clocks, mirrors, and other heavier wall décor securely. The cone shape of the screw acts as an anchor, increasing its holding strength. Each screw supports up to 30 pounds, and the shape of the head prevents your décor from sliding off. DécoScrews work with both Phillips and flathead screwdrivers. There is no need to drill a hole or use an anchor prior to installing a DécoScrew, it works all on its own!
Don't take our word for it, check out what some of our customers are saying about DécoScrews:
How to hang heavy items with Hang & Level™
Sometimes large awkward items require two people, but don't be discouraged, Hang and Level™ can still help to simplify the process. We will show you how! In the example below, we used Hang & Level to hang an oversized mirror that was fitted with two D-rings.
First, place one D-Ring onto the single hook of the Hang & Level and position the mirror and tool against the wall.
If the tool's handle doesn't clear the top of the mirror, angle it sideways, you'll get the same results. Next, remove the mirror, mark where your screw should go, and install it.
To mark the second hole, hook the mirror on the screw while holding the other side. While your helper is holding the mirror, place the other D-Ring onto the single hook of the Hang & Level, like you did for the first screw. Make sure your mirror is level, and mark the spot. Install the second screw and you are done!
The two rubber pads at the back of the Hang & Level ensure that your wall is not scratched while you are maneuvering your heavier items.
 
Thanks for reading! We hope you enjoyed learning about DécoScrews and Hang & Level. Check back next week to discover other cool ways to get your art back up after renovations. 
-The UTR Team