Hang a wreath for instant holiday cheer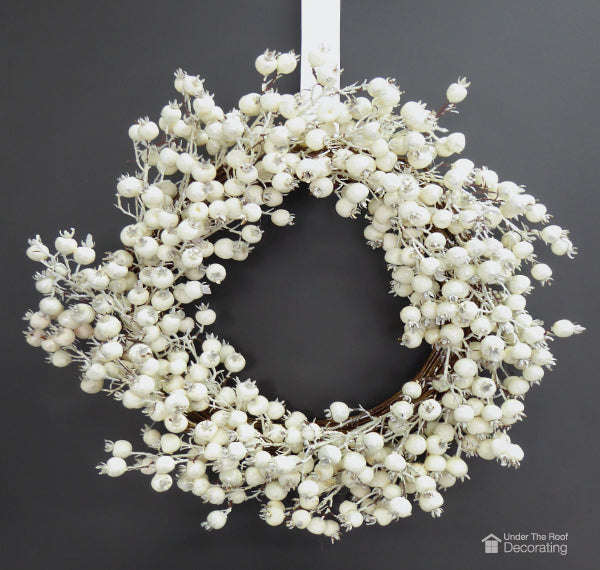 If you have only a few minutes to decorate for Christmas, hang a holiday wreath. It's a simple and easy way to add instant holiday cheer to your house. They come in all styles, shapes and colors so you're guaranteed to find one to match your décor or holiday theme.  According to Elle magazine, these are the best ones you'll find this season.
Here are some of my my favourite ways to hang a wreath without damaging your door. This style of over-the-door hanger is one of the most popular. It's adjustable length can accommodate different-sized wreaths.
If hanging a holiday wreath on your front door is not an option why not hang a wreath on a mirror? Use a clear suction hook. They can hold up to 10 lbs and work indoors and outdoors. When your wreath is on it, the clear hook completely disappears, you don't even see it in the reflection of the mirror. The effect almost looks like your wreath is hanging on its own.
If your wreath has a ribbon, you can hang it without having to drive a nail into the door. Simply place a thumbtack on the top edge of the door.  Decide how low you want the wreath to hang to determine the length of ribbon needed.  You can flip the excess ribbon over the wreath or keep it simple like I've done here by only showing the strip of ribbon holding it in place. 
I bought this inexpensive white berry wreath at HomeSense (HomeGoods in the USA) and hung it on my office door. The white berries sparkle against the black background, the whole look is elegant festive and très chic.  The best part is that it took less than 5 minutes to do and delivers the wow factor I was looking for.
For more holiday decorating inspiration, head to our Pinterest boards where you'll find a variety of wreaths, easy budget friendly DIY gifts, inspiring table settings and creative gift wrapping ideas that wow.
What's your favourite holiday decorating project?
Liette Tousignant
Co-Founder of Under The Roof Decorating