Hang a Mirror: Use a Screw and Anchor in One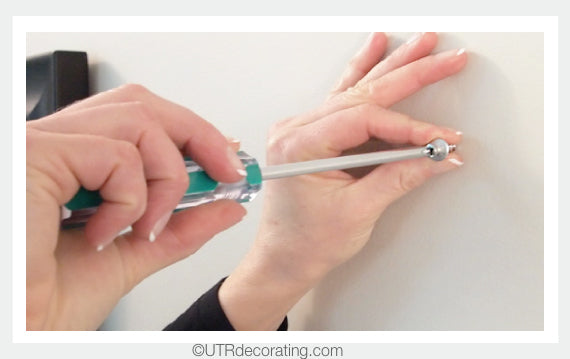 When I'm hanging something heavy like a mirror or a large piece of artwork with glass, I want to make sure I can be confident that it won't come crashing to the floor in the middle of the night. Can you imagine the mess a broken mirror would make? And who wants seven years of bad luck?
This is why I use a Déco Screw whenever I question the weight of the piece I'm hanging. The screws are super strong — they're a combination of a screw and an anchor and each one can hold up to 30 lbs. The product's unique cone-shaped shank acts as an anchor and all you need is a Phillips or slotted screwdriver, a couple of twists, and presto, it's up and ready to hold your artwork! No drill is required.  Also, because the Déco Screw is mid-size in length, there is no need to worry about puncturing wiring or plumbing, giving you additional peace of mind.
If your piece is extremely heavy and fitted with a picture wire, use two screws. Large mirrors are usually fitted with two D-rings, so you can trust Déco Screws to do the job.
You can watch this short video to see how it works.
To see a list of stores selling our Déco Screws, please click here.
Make sure to sign up to receive our blog posts so you can have them delivered straight to your inbox.
Happy picture hanging!
Liette Tousignant
I'm passionate about picture hanging and wall decorating (and I'm also the Co-Founder of Under The Roof Decorating)