Foolproof Tip to Hang Magnetic or Other Small Boards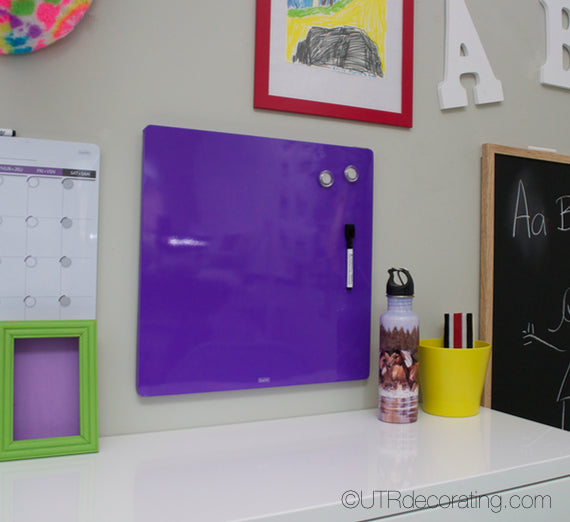 Hanging magnetic boards, corkboards, and small chalkboards straight on the first try may seem like an easy thing to do — until you actually have to do it. These kinds of boards usually come with four sticky double-sided adhesive pads that you place on each corner.  While it may be easy to stick on, once the board is up on the wall it's tough to straighten it even if you applied very little pressure on it to start with. More often than not, you end up either removing the pad from the back of the board or risk damaging your wall.
Here's my foolproof tip: when hanging such board above a study desk like we did, I usually sit to determine the right height to make sure the board is easy to reach by whoever is going to use the space.  I place a very small level that has a sticky backing in the middle on the top of the frame. Once the bubble is level, I push the frame in place with confidence.  And that's it!  Here's a close shot of the level I used, which is part of our Anchor Points' package.
Do you have a tip to share when hanging stuff up on walls?
Make sure to sign up to receive our blog posts so you can have them delivered straight to your inbox.
Liette Tousignant
I'm passionate about picture hanging and wall decorating (and I'm also the Co-Founder of Under The Roof Decorating).