Fill a blank wall with a framed poster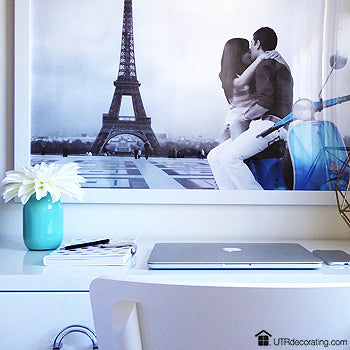 If you're looking for a stylish and affordable way to fill a blank wall, frame a poster. You'd be surprised at how quickly it will add style to your space with minimal effort and money. For example, this Paris poster that had been sitting in my daughter's closet for years became the surprise inspiration for her bedroom refresh. Here's how I pulled the look together.
Once I found our décor inspiration, the rest came together quite easily. Framing the poster took only a few minutes:
I bought a 24X36in poster frame at Michaels
I used a small piece of double sided tape at the top and bottom to hold the poster in place. No need to use adhesive spray because the backing and glass will keep the layers tightly together. Additionally, it will be easier to switch posters when you get tired of it if there's not too much glue.
Clean the glass (plexiglass) with a lint free cloth making sure it's spotless before inserting your photo. Don't skip this step, or you may end up with some surprises.
Put the backing back into place and you're done!
The toughest part of the project was unrolling the poster to fit it in the frame. It had been rolled up for so many years that it wasn't "listening" to me. 
How high to hang artwork is one of the most common questions I get asked and as much as I hate to admit it there's no one-size-fits-all rule. Every situation is unique and different. With that said, here's the thought process I went through to determine the right hanging height for our poster. Apologies for the washed out photos, when we took the pictures it was a very sunny day which was great if you were outside enjoying it but not so good for picture taking.
Tip: Before hanging your art, think about the accessories you'd like to display on the surface below. On this small dresser, I knew I'd need most of the space for my daughter's laptop, phone and a few other things.
Top photo: I'm holding the poster at about 3 inches away from the dresser. I like this look because it feels connected to the surface, and since my accessories are mostly flat with the exception of a couple of things, the look is compact.
Middle photo: Next, I raised the frame so it lined up with the middle of the bed post.  I didn't really like seeing all the white wall space especially since I knew that I wasn't going to display anything tall on the dresser such as boxes, table top frames, or plants.
Bottom photo: Almost at the top of the bed post, I knew right away it was way too high.
After testing the different hanging options, I was confident to hang my poster frame at approximately 3 1/2 inches from the top of the desk. I used my Hang&Level to hang it exactly where I wanted. 
Next, it was time to accessorize which I kept to a minimum to keep the dresser ready for all the stuff that gets brought home after a busy day, like a laptop, keys, phones, purses, mail, magazines etc…
Since the Eiffel tower poster was the inspiration for the bedroom décor, I couldn't resist buying these grey and white French quotes bed sheets. In case you're wondering, the quotes are all very dreamy. They're about the moon, love, friends, dreams… all good and positive vibes that encourage a good night of sleep.
To carry the French theme across the room, I placed a black rattan chair similar in style to what you'd find in a French bistro. The black chair looks sharp against the all-white background which emphasizes its round curves. 
Décor inspiration can come from anywhere, and for us it all started with a $10 poster.  The overall look feels very dreamy and very French – it's like a taking a trip to France without leaving home.
A bientôt!
Liette Tousignant
Co-Founder of Under The Roof Decorating