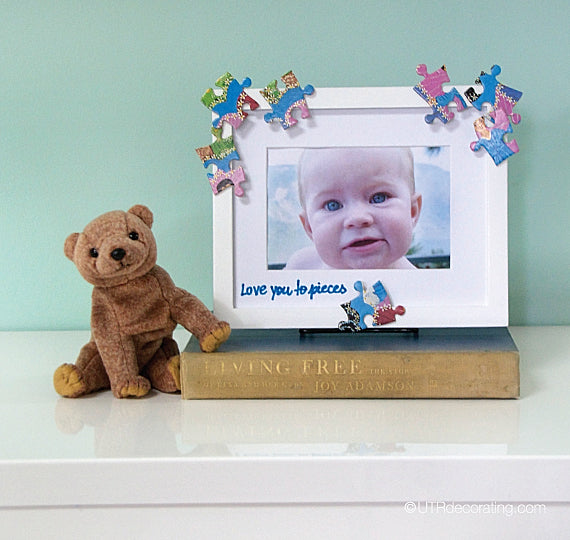 Doesn't this picture just melt your heart? This Father's Day puzzle art takes only a few minutes to make and is guaranteed to bring a tear to any father's eye. This is the kind of priceless homemade gift that will live on your bookshelf or night table forever. It's adorable and creative, plus kids will love to help out.
I was inspired by some puzzle art I saw on Pinterest and decided to make my own. The best part is that you probably already have everything that's needed for this project:
Puzzle pieces (perfect if you have a set already missing a few pieces)
Glue gun and glue sticks or clear tape
Picture frame with a flat front
White cardboard or paper (optional)
Sharpie
I used a white picture frame I already had and simply took the old image out. Since the frame is quite small, I chose a close up of baby Page's face to focus on her gorgeous blue eyes. I printed her picture on a colored printer, it could also be printed in black and white or simply use an actual photo.
Before glueing, play with different colors of puzzle pieces to find the ones that complement the photo the best. I picked blue and pink pieces to create a soft fresh look and thought the colors enhanced the background and Page's blue eyes nicely. Next, move the pieces around to find a look that is perfect for the size of the frame. I tried stacking pieces but it overwhelmed the small frame, so I kept it simple and ended up using only on a few puzzle pieces.  
Warning: If you're using a table top frame, avoid glueing pieces too close to the bottom edge, they'll get in the way when the frame is resting on a desk or tabletop.
If you're in rush or don't want to use a glue gun with the kids, simply use clear tape to attach the pieces to the frame. It will allow you and/or the kids to move the pieces around without damaging the frame.
Write a caption and you're done! I off-centered mine and added a puzzle piece next to it just to add an element of playfulness and to avoid being too symmetrical.
That's it! No paint, no mess, no money spent and Dad will love it.
Love you to pieces DAD!
Liette Tousignant
I'm passionate about picture hanging and decorating (and I'm also the
Co-Founder of Under The Roof Decorating).