Easy Halloween Decorating Ideas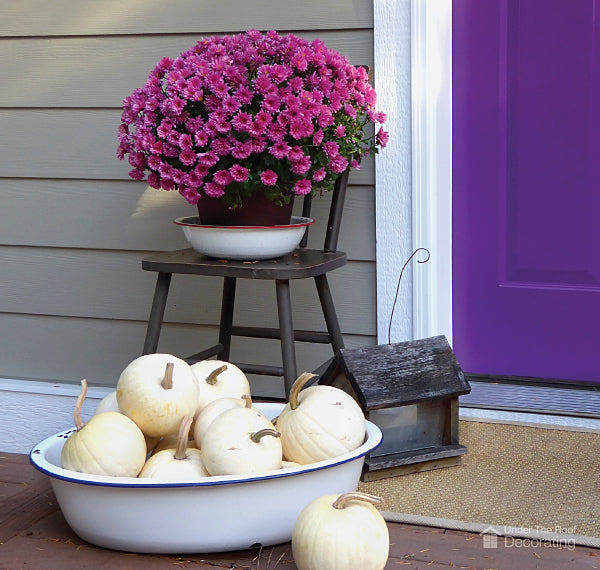 *Written by Liette Tousignant, Co-Founder of UTR Decorating.
Decorating for Halloween doesn't have to be complicated. Even if you're a busy person who can't be bothered with carving a pumpkin, you can still use pumpkins in your décor. Here are some of my favourite Halloween decorating ideas that can be done in 5 minutes or less with nothing more than a few pumpkins.
If you have time to decorate only one space in your house, choose the front porch. It will show your Halloween spirit right at the front door to welcome all the trick-or-treaters and their parents.
In the past I decorated with traditional orange pumpkins, since Halloween was all about bright orange (and of course candy) for the kids. Now that my kids are grown up, I decided to go for a more sophisticated look featuring white pumpkins.
The best places to find white pumpkins are farmer's markets and country markets. Here I am at a local market, where I almost bought the entire white pumpkin patch. Believe it or not, I paid only $1 per pumpkin. I ended up buying 15 of them; enough to decorate my staircase and other rooms of the house.
Since my stairs are right by the front door, it's the first thing guests see. I felt it was worth taking 5 minutes to decorate them. For safety purposes, I displayed pumpkins only on one side of the staircase, keeping the hand rail side free of clutter. I alternated the direction of the stems to make the display visually more interesting.
Another reason to buy white pumpkins is that they fit perfectly in any décor without clashing with wall colours or any home accessories.  Placed on a dark wooden serving tray, they add the perfect Halloween touch to my kitchen.
Here, I placed 3 different sized pumpkins on a metal tray. It works perfectly with the relaxed casual feel of the basement family room.
The next one was the easiest laziest look to create. I had brought this vintage basin with me to the market to bring the pumpkins home. I literally took it out of the car and placed it on the front porch where I already had a mum plant. This look took a whole two minutes to execute. 
I hope these ideas inspire all of you busy people to decorate your space for Halloween. If you need more seasonal decorating inspiration head to our Pinterest board or to Instagram where you'll find lots of pictures and ideas.
Thanks for hanging around!
Liette Tousignant
Co-Founder of Under The Roof Decorating