Easy Christmas centerpiece idea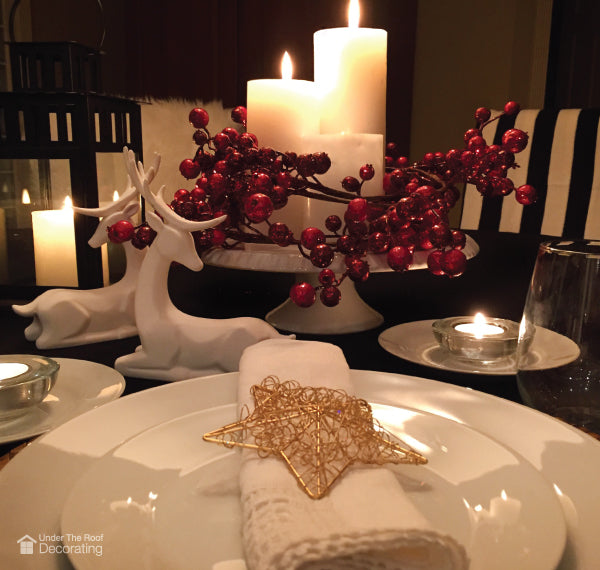 Since we eat with our eyes first, I always like to create a good first impression by dressing up my dining table with an eye-catching centerpiece. I also like to keep things simple, so creating something that doesn't require much work is always a priority. Here's a quick and easy Christmas centerpiece idea that can pulled together in minutes and is guaranteed to deliver a soft elegant glow at the table.
I love DIY projects, especially when they're easy and require only a few things.
This is all you need:
1 cake stand
3 pillar candles of different heights
1 garland or small wreath
The cake stand:
I have 2 different heights of cake stands so I tried them both on my table to see which height would work best. The shorter one turned out to be the best. It's high enough to create an interesting focal point on the table and low enough for guests to see each other from across the table.
The garland:
Pick a color that complements your linen and tableware. I chose red because it adds a festive touch to my table and it goes well with my black and white tablescape theme.
I used a garland, which was easy to cut to fit the size of the plate. You could also use a small wreath.
The candles:
I displayed 3 candles of different heights next to each other to create a cozy display.  I tried 4 candles but it looked too crowded, and displaying only 2 candles was too sparse.
If you have young kids around, you can use battery-operated candles instead of real ones. You still get the warm light without worrying about the safety of the children.
Here's what I did:
I wrapped the garland around the cake stand and placed the candles in the middle. I ended up trimming the garland a bit so that it didn't overwhelm the delicate cake stand. That's it. Done. It took a whole 10 minutes from beginning to end.
Warning about glitter:
It's almost impossible to imagine the holidays without a bit of sparkle, so I used a garland that has some glitter. It helps reflect the soft glow of the candles against the red. I was careful though to avoid getting it all over the house because it can take months to get rid of the lingering glitter. Big thank you to the folks who wrote this article on how to remove glitter from clothing and furnishings.
For more creative holiday table centerpiece ideas head to our Pinterest board. You'll find inspiration to fit any décor, style and budget. Merry Christmas (Joyeux Noël)!
What are your favourite go-to items when creating a centerpiece?