Tips for Setting the Perfect Easter Table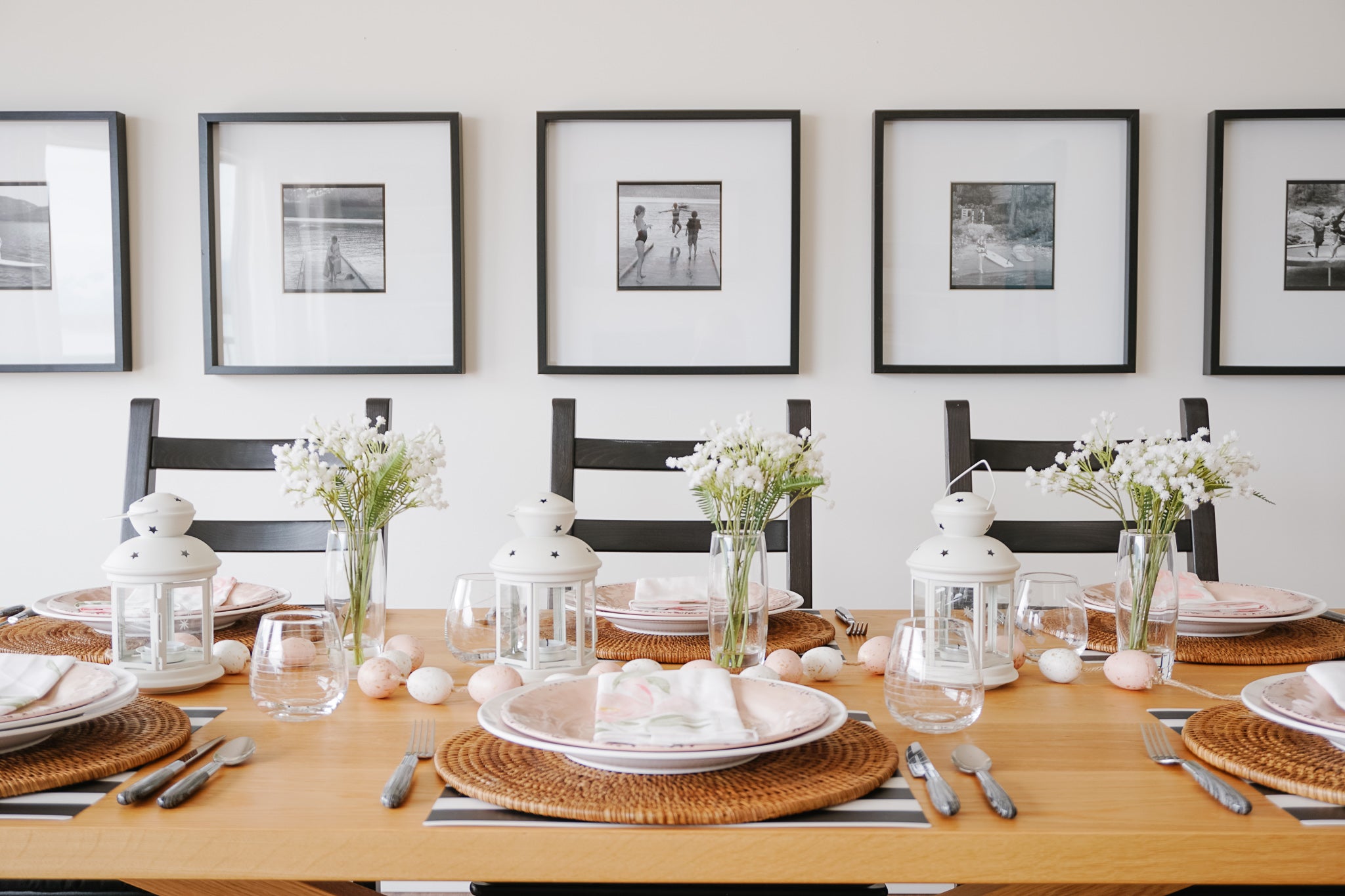 If you're hosting Easter brunch or dinner this year, there's a good chance that you've already started planning the menu. But have you thought about how to decorate your dining table? Easter décor doesn't need to be complicated — here's a super easy Easter table-setting idea to get you started.
If you're pressed for time, this look is simple, elegant, and takes only minutes to put together. 
Tips:
The secret to a perfect table setting is in using layers, they add texture and colour.
Begin by working on each place setting.
We used 2 placemats for each setting. We went with black & white to add contrast between the wood table and the round rattan placemats. 
Use large white plates as chargers - they add elegance and a pop of brightness to the table.
Light pink dinner plates add a touch of Spring while accentuating that Easter flair we are going for.
Pretty floral dinner napkins enhance the look while also tying all the colours together.  
Simple stemless wine glasses can be used for cocktails or just water. They're a favourite of ours and as a bonus they don't tip over as easily as stemmed glasses. 
Simple marble pattern utensils help to elevate the chic factor of the table decor.
Faux baby's breath flowers and white lanterns can be used as a centrepiece to add height to the table top. 
Lastly, a plastic egg garland weaved around the lanterns and flowers add a fun special Easter touch to our tabletop. 
Done! 
Bonus decor tip: It's perfectly OK to use faux plants - they have come a long way and are now rather difficult to differentiate from the real ones unless you touch them.
The best part is that all the table decor can be used for any occasion or day of the week, (OK, except for the egg garland). We invested in versatile pieces that can be used over and over. That's a good investment. 
We have lots of Easter table setting ideas on our PINTEREST board, where we've done all the research for you. We have picked various looks and styles ranging from simple to elegant, nature-oriented and florals, to even pastels, vintage, and kid-friendly designs. You're guaranteed to find a look that you'll like. See you there!
Are you ready for Easter? We'd love to hear from you, share your feedback in the comment box below. 
We hope you all enjoy your Easter weekend with your families and friends!