Create the perfect Valentine vignette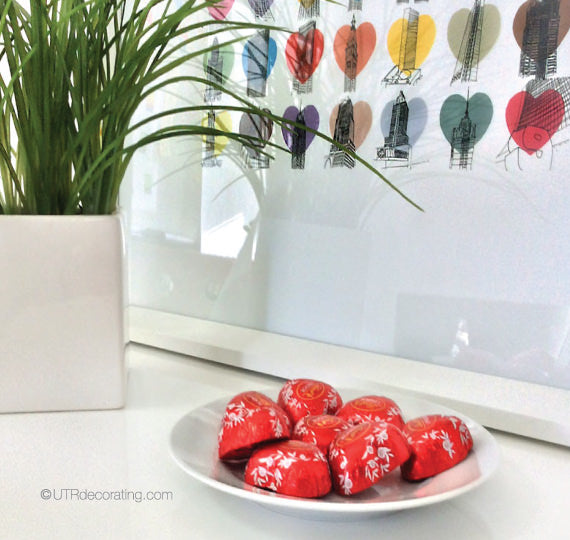 Creating small vignettes throughout the house is a great way to celebrate a holiday like Valentine's Day without feeling like you're overdoing it. Vignettes offer a quick way to give your space a mini facelift without having to redo the entire room. Strategically place your arrangements on a coffee table, in an entryway, on a bedroom dresser, or on a mantel to create an instant focal point that is guaranteed to jazz up your space.
A vignette is a group of objects displayed closely together to tell a visual story. I like to use things from around the house and really believe that objects that I love always make the best vignettes because they reflect my personality. Using items of different heights and texture and incorporating simple things is also a good strategy. The goal is to create a display that looks effortless, nothing too staged or curated.
With that in mind, that's exactly what we did when putting together these simple Valentine vignettes.
Less is more! 
This vignette is simple, fresh, minimalistic and timeless looking. I bought this playful heart print at IKEA. It fits very well into a Valentine's Day vignette and could easily be displayed all year around without it screaming "Valentine." Red foil-wrapped chocolates on a simple white plate make the red hearts from the print pop, and they also add a touch of Valentine's without overdoing it. The plant nicely breaks up the white and brings another sense of texture and height to the arrangement. I love the reflection of daylight in the glass, which adds movement and life to the look. I'd recommend this vignette for an entryway or on a mantel where it can reflect natural light.
Cute and adorable!
This look is very playful and kids would love to help out create such a fun vignette. We used simple things we had around the house, using the kids' chalkboard to draw a big heart and "I love you." You can personalize your board with any kind of Valentine message. We propped up the plant on books to give height to our display, which was much needed to balance out the height of the chalkboard. The little stuffed giraffe adds warmth and an element of playfulness to the vignette. We completed the look by pouring mini red cinnamon hearts into an earthy terra cotta vase to keep things simple and to avoid any breakables on the table. This vignette would look great in a family room, on a mantel, or in a kids' room (maybe without the candies to avoid any temptation).
Simply gorgeous! 
I love this look. My co-workers describe it as being "elegant, feminine, serene and sophisticated with a touch a polished vintage." All the grey metal colors blend very well together and the orchid and candle images reinforce the peaceful calm look we were going for. The orchid adds life and nature into this otherwise monochromatic look. No red hearts here, instead we used a chunky heart locket to play up the Valentine theme. The three different sizes of frames create movement and the wedding bands symbolize love. This vignette would look outstanding on a bedroom dresser or on a night table.
One of the best tips I can give you if you want to create a vignette is to take a picture of the final look when you think you're done. The picture will instantly reveal the things you need to tweak such as height, color, or spacing between objects. We do this all the time — try it, it works extremely well.
If you're looking for more Valentine inspiration, check out our Pinterest board. You'll find lots of great images and DIY Valentine to projects.
Which vignette is your favourite?
Liette Tousignant