Decorating with garage sale finds – 6 upcycling ideas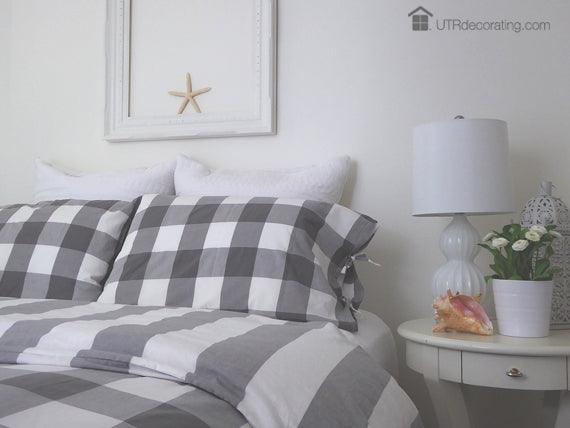 Have you been to a garage or yard sale this summer? If you're like me, you find them irresistible. When I go to a garage sale I usually look for things that I can quickly transform from blah to wow with minimal effort. Over the years, I've transformed lots of "trash" into treasures which usually required only a coat of paint or some upholstery fabric. Take a look at these six upcycling ideas – I hope they'll inspire you to make something old new again. Enjoy!
1. DIY picture frame makeover
I bought an old picture frame, painted it all white and hung it above this queen size bed to create a headboard. It took only a few hours from start to finish to turn this plain Jane into a shabby chic frame perfectly suited for the cottage. See the before and after here.
2. From clunky to funky: budget-friendly chair makeover
Last year, we did this budget chair makeover. Since transforming the desk chair into this funky little stool, we've been using it every single day at the office.The old chair was ugly and clunky, and the backrest was falling apart. You won't believe it's the same chair – check it out here.
3. Add vintage personality to your garden
When my friend Carla gave me a rustic metal ornament she bought at a yard sale, I loved it but I had no clue of what to do with it. Now that I've painted it, it looks so good that I'm afraid that once she sees how beautiful it is, she might want it back! Click here to see how weathered it was before I painted it.
4. Designer walls on a garage sale budget
Empty frames are such a creative and chic way to dress up walls, all without spending any money on actual artwork. Once the frames are painted they become art themselves — think of it as instant Wall Art. Click here to see the before and after.
5. How to make a chalkboard
When I rediscovered an old picture frame I had bought at a garage sale years ago, I decided to repurpose it into a chalkboard. You'll love this DIY because it's quick and doesn't involve any painting. Click here to see the makeover.
6. DIY bulletin board from four repurposed corkboards
If you read this blog regularly, you'll recall that we recently moved offices. A move of any sort results in a list of jobs to be tackled and next up on ours was a bulletin board. I love my virtual Pinterest boards, but wanted something that I could look to for inspiration throughout the day. See my newly painted boards here.
Do you have any upcycling projects you'd like to share with us? I'd love to hear from you. Please share them in the comment box below.
Thanks for stopping by! Talk to you soon,