Decorate with frames – just frames, no art!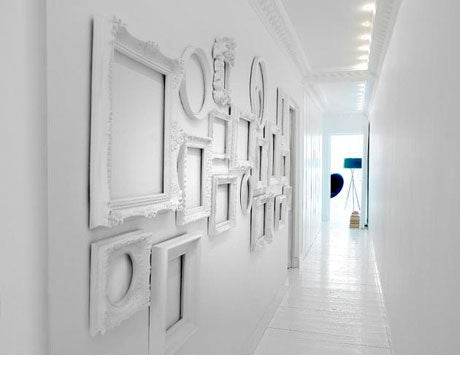 Do you have some mismatched frames that you don't know what to do with? Just give them a fresh coat of paint to transform them into instant Wall Art.
It's a creative and chic way to dress up your walls without spending any money on artwork. Here, everything was painted white, from walls, picture frames, floor, ceiling to the decorative moulding. The look is peaceful, bright and makes the narrow hallway appear much wider than it actually is.  Use this image as inspiration to create a unique look for your space.  Paint all the frames the same color as your walls, or use a contrasting color to make your frames pop. No time to paint? No worries, simply hang the frames as they are and create a "no fuss" look that will fit any casual space.
There's no need to paint the back of your frames and if they're fitted with a picture wire, simply replace it with a sawtooth hanger that will be invisible from the front. They're easy to install, just be careful when hammering the tiny nails in to avoid cracking the frames.
What do  you think – Is this a project you'd do in your home or cottage?
Thanks for visiting our blog! Please feel free to leave a comment.
Image via Elle Decor