Deck Your Walls With This Easy Plaid DIY Art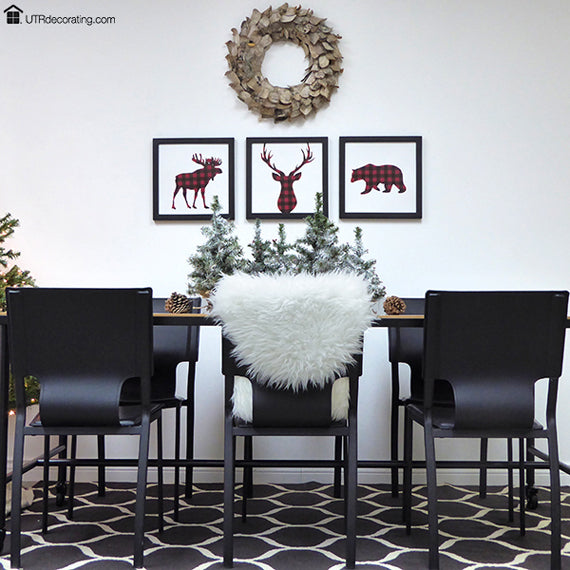 I was looking for art that looked festive without being overly Christmassy, but since I couldn't find what I was looking for, I made my own using gift wrapping paper. Here's what I did and what I learned so you can easily recreate the look too. (written by Liette, Co-Founder of UTR)
First I determined how many frames would be needed to fill up the wall space in my dining room. Three turned out to be the perfect number. Since plaid is all the rage these days, I knew that it would be part of this DIY. I chose large animal prints because they fit the rustic look I was going for.
What you'll need:
Wrapping paper – pick a busy pattern that will hide any mistakes that might occur when cutting.
Sharp utility knife (to cut through the thin delicate wrapping paper) or scissors (I ended up using them over a utility knife – I was more accurate. Your choice!)
Animal stencils we made
Adhesive spray – be very generous with it to make sure your cut outs stick well to the poster boards.
White poster boards – to glue the animal silhouettes to.
With the wrapping paper pattern facing down, trace the stencils with a pencil.
Cut each stencil using a utility knife or scissors.
Generously spray the wrapping paper animals with adhesive spray.
Centre each animal shape on the poster board and smooth over with a soft cloth.
I used our black Place&Push Frames, removed the original art and mats and inserted the plaid animals. I placed the backing back on and I was done. Easy peasy!
I hung the deer in the middle and framed it with the bear and moose facing each other. That's the layout that looked the best.
I hung a birch wreath above the trio to add height to the display and the round wreath adds softness to the overall look.
As for hanging the three frames, I hung the deer first. I tested different heights, one was too close to the chairs, the one on the far right was too high and felt disconnected from the furniture below, the centre one turned out to be the best. Picture hanging is all about trial and error, so it really helped to have someone take pictures of the three different heights for me to review and make a decision. Click on How to hang three picture frames for step-by-step info. 
I love the final look and when the holidays are over, the art will still look on trend even when the Christmas wreath and tree are gone.
What do you think of this plaid art project?
Thanks for dropping by!