Creating a focal point in a bathroom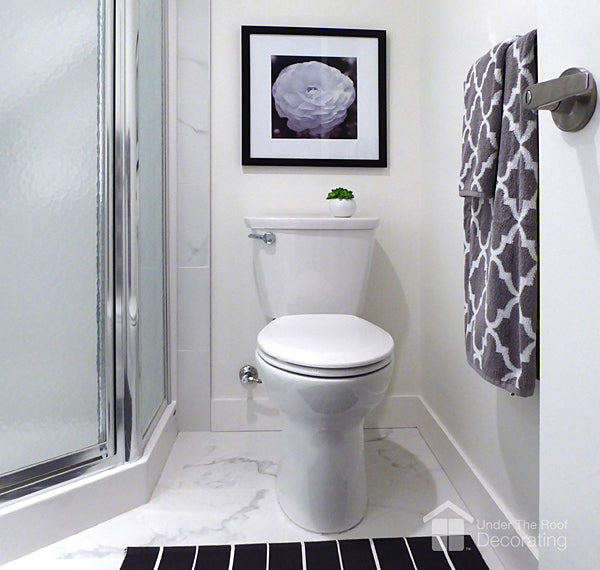 *Written by Liette Tousignant, Co-Founder of UTR Decorating
In a perfect design world, a toilet would never be the focal point of a bathroom. But sometimes plumbing issues or other building challenges get in the way and you end up with less than perfect results. That's what happened in my teeny bathroom at the cottage where I had to use art creatively to draw attention away from the throne. Is it working?
As you enter the small bathroom from the basement hallway, this is exactly what you see – the toilet.  Since it's not the prettiest thing to look at I thought that a large piece of artwork hung above it would draw the eyes up and take the focus away from the bottom half of the wall.
Looking for the right piece of wall décor was all about trial and error.  I tried different frame colors, materials and sizes before finding the ideal piece. At first, I thought this metal picture frame would work perfectly, but it blended too much into the white wall and wasn't eye-catching enough to detract from "you know what". 
On the other hand, this large black and white framed flower creates a strong focal point that instantly draws your eyes up when entering the bathroom. It also punches up the white walls and it looks great.
Tip: When hanging art in a bathroom, choose pieces that are not too expensive or irreplaceable as they could get damaged by the humidity from hot showers and baths.
The black and white striped rug adds texture and warmth to the white porcelain floor and ties in nicely with the black framed art.
I hung the frame high enough to keep the focus up versus down towards the toilet. Before hanging your piece, decide if you'll be displaying accessories on the back of the toilet tank such as a basket, a tissue box, rolled up towels or a plant which will help determine the right hanging height.
On the opposite wall next to the shower, there's a small skinny vanity with a round mirror hanging above it. I chose a black soap dispenser to add a touch of modern and to tie the overall design together. 
Since the bathroom has very basic fixtures, I like to play with different patterned or colored bath towels to jazz up the all-white bathroom and to add fun and personality to the small space.
Do you have art hanging in your bathroom?
Liette Tousignant
Co-Founder of Under The Roof Decorating