Create an Instant Gallery With Your Kids' Art - Without Making Any Holes in the Wall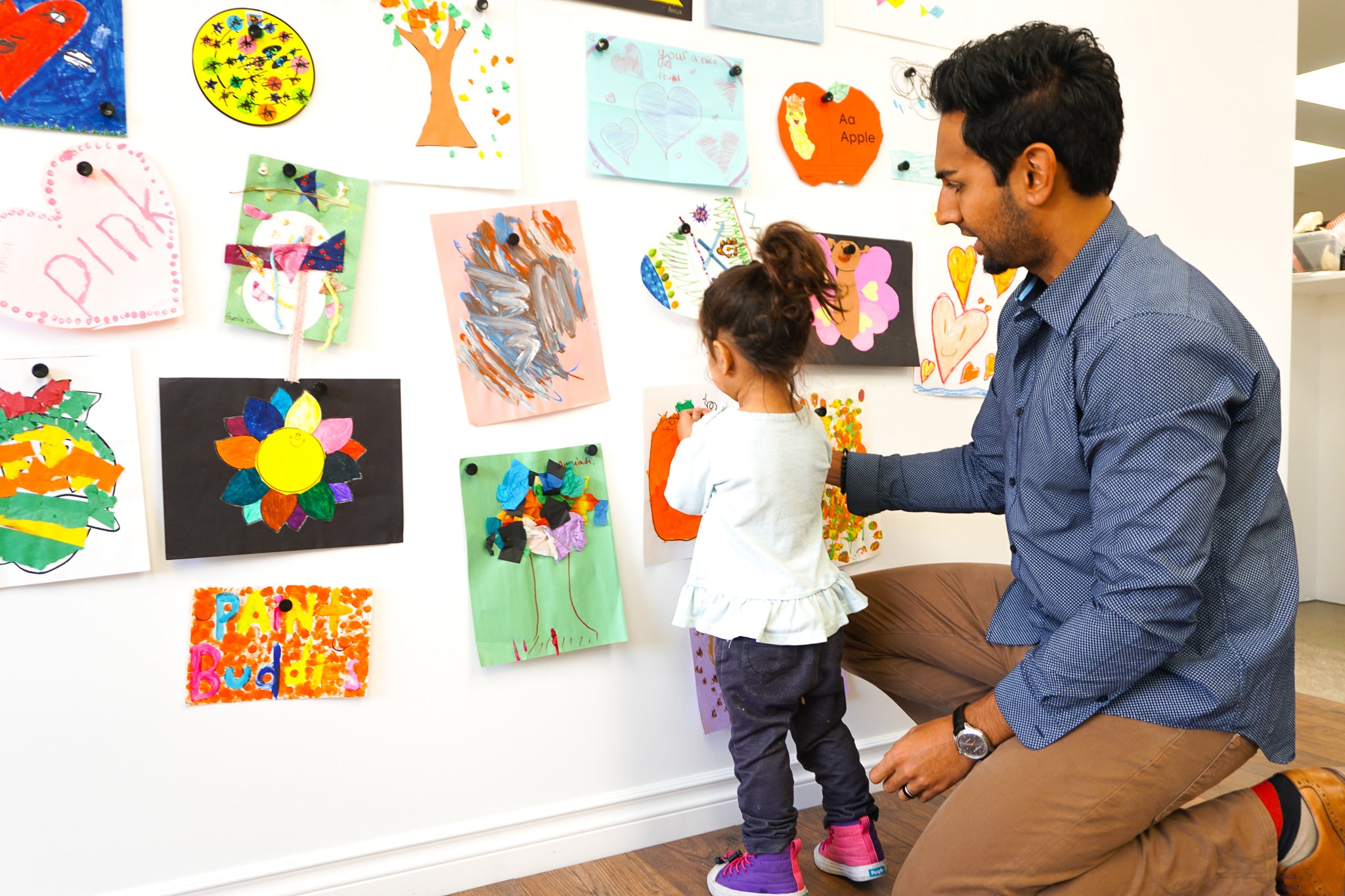 There's never enough room on the fridge to display the countless amount of kids art that's brought home. Why hide it all away when you could create a giant gallery wall to show off their masterpieces! Don't worry, there are no holes involved in this display, so your walls are safe. This creative décor idea is perfect to fill up a large wall without spending much money. Not only does it look great, it only takes minutes to complete. Don't hesitate - just go for it!
Admit it -- we all have a Tupperware box somewhere filled with drawings and paintings that you or the kids don't want to part with. We understand, each picture is precious and nobody wants to regret letting go a piece of their youngsters' childhood. Too many of these treasures end up locked away, so we say no more! Dive into your collection (or Tupperware box) and select some art to display while saving some others to rotate in later. Let your kids decide what they want to hang, and since we're using our "magic" magnets, swapping is super easy. Refresh your walls whenever you or the kiddos feel like it, and watch it transform over time with new drawings.
Pick a wall in the house that needs a pop of color and don't think for a moment that it has to be a basement wall, or out of the way. Why not choose the family room, kitchen, office, entryway, or anywhere that gets lots of traffic for everyone to enjoy little Picassos' work. Such a gallery will add a unique personality to your space, and the kids will be proud to show off their art to family and friends - consider it a wall of pride!
There are no display rules here, anything goes! Let kids be kids and allow them to decide where they want to hang stuff, or even swap things in and out over time. They can place their artwork as low as they want on the wall, or as high as they want with mommy or daddy's help! Keep adding to the space until the entire wall is covered, or just keep it to a central area. It's all up to you!
Within minutes you'll end up with a colourful tribute to your kiddos' creativity, all without making a single hole in the wall. 
How to hang your little Picassos' art without damaging the walls?
Here are the 'top-hat' magnets we used to hang all of the art. The black top has a magnet that works with a round disk with sticky adhesive backing.
The first step is to peel off the plastic cover revealing the adhesive.
Place the top hat on the 'display' side of the art and then place the disk on the back, non-sticky, side of the paper.
They magnetically stick together.
Now, take the art and place it on your chosen spot allowing the adhesive to secure the disk to the wall. Since this is freestyle hanging, if you don't like where you placed it you can just move it. It's that easy! 
To remove the disk from the wall, use the small clear 'guitar pick' that comes with the magnets. It's easy, painless, and doesn't leave any sticky residue on the wall. 
The beauty of such a gallery is its vibrant colors. Your kids will be able to quickly display their pieces, and point out their favourite ones each day. The magnets come in black and white, both neutral tones to let the artwork shine!
How cute is this? For those social media savvy parents out there, this gallery wall is the perfect background for those precious instagram snapshots.  
These magnets are also perfect to hang recipes on in the kitchen backsplash, Xmas cards during the holidays, calendars, paint swatches, lunch money...pretty much anything you can think of that is light.
Head to our online store to buy your own magnets!
If you have any questions or feedback you want to share, please do so in the comment box below.
Thanks for hanging out with us!