Choosing a front door color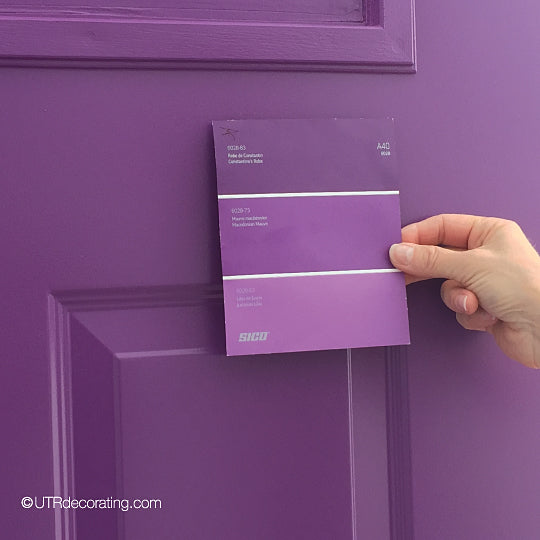 One of the best ways to add curb appeal to a house is by painting the front door. That's exactly what I did to spruce up our family summer cottage and now the new purple front door is truly the focal point of the house.
I chose Constantine's Robe by Sico because it's bright, fresh, cheerful and is a happy color to welcome friends and family to the lake. Choosing the right color is more than just picking a color you love. You need to consider the color of your roof, porch, and siding and also think of the overall curb appeal you want to create. When I picked my color, I made paint sample boards to confirm which purple to choose, and I'm glad I did.
My first choice was "Lilac" which sat at the bottom of the paint chip, but I ended up picking a deeper purple (the one at the top) because it stands out more in the sun and in the shade. If you'd like more insight on how to choose the right color for your front door, I'd highly recommend reading this article by Better Homes and Gardens. 
The black hardware for the door was a great accent choice. It ties in well with the black lanterns and shutters to add extra curb appeal.
Since we had several doors to paint at the cottage (not all purple), our contractor Jeremy set up a portable car shelter to use as a painting tent. It turned out to be a brilliant idea. The tent kept the mess out of the house and sped up the whole spray painting and drying process. I couldn't resist taking a video of Paul, our painter, when he was spray-painting the front and side doors purple.
Painting tip:
Painting a door with a dark color requires a good coat of primer and then at least three coats of paint to make sure the base color gets completely covered. Allow for a fairly long drying time between each coat for the paint to cure. Install the hardware only when the paint is completely dry. Don't rush this process, as you could be disappointed in the results.
Thanks for dropping by!  Talk to you soon.
Co-Founder of Under The Roof Decorating
Make sure to sign up to receive our decor and design blog posts delivered straight to your inbox.