Celebrating Holiday Traditions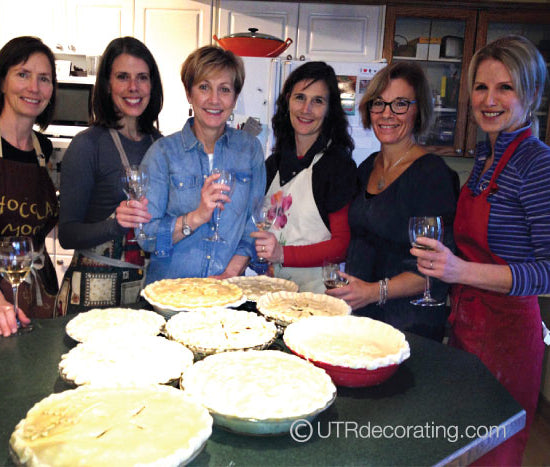 Call me old-fashioned, but I love holiday traditions and I hope that my annual November get-together with friends to make tourtières, a traditional meat pie from Québec, will continue for years to come.  Here I am with friends (from left to right) me, Pam, Anne, Karen, Carolyn, Cathy and Shirley, celebrating another successful tourtière-making afternoon.
Coming from a large French Canadian family (nine kids), on Christmas Eve my mom would put the tourtières that she had made weeks in advance into the oven and we'd go to midnight mass while they'd cook. By the time we'd come back from church, the house would be filled with a savory sweet smell of deliciousness that we'd associate only with Christmas. The beauty of this tradition is that all the work is done ahead of time so there are no pots to scrub on Christmas Eve and you can enjoy visiting with friends and family without too much stress.
Here's what my friends and I do every year to keep the tourtière tradition going:
We all make our pie dough at home so it's ready to be rolled when we're together. We always pair up in groups of two to make our large pots of meat. We chop onions and garlic and mix that in with the meat, bread crumbs, and lots of savory spices.
We roll the dough while the meat is cooking, and get our dough decorations, including Xmas trees, snow flakes, reindeer, bells and more, ready. We clean up as we go so we don't end up with a mountain of dishes by the time we're done. Ta da! Here are our unbaked tourtières ready to be frozen, and then cooked on Christmas Eve.
Here's one of my tourtières all cooked and ready to be eaten.
The recipe we've used for the past 21 years comes from my friend Anne's mom, Rita Carey. It's her family's traditional tourtière recipe that has been passed down from generations in Shawinigan, Quebec. We are happy to share the recipe with you, as it is exquisite. If you give it a try, be sure to send us snapshots of your tourtière at photos@utrdecorating.com. We'd love to see it!
Rita's tourtière recipe
 1 1/2 lb. ground pork
1 small onion, minced
1 clove garlic, minced
½ tsp. salt
½ tsp. savory
¼ tsp. celery salt
¼ tsp. cloves
1/4 tsp. cinnamon
½ c. water
¾ c. breadcrumbs
Pie pastry (double crust)
* I like to add a dash of sage and allspice too.
Place everything except the breadcrumbs in a saucepan.  Bring to a boil and cook 20 min. uncovered over medium heat.  Add the bread crumbs.  Remove from heat and cool until tepid.  Adjust seasoning to taste.
Line 9" pie plate with pastry, fill with meat, cover with pastry and decorate with leftover of dough.   Cut vents in the top crust with a sharp knife.  Bake at 400 degrees F for 30 min or until brown.  Serve hot or cold.
Double the recipe for a large pie.
Liette Tousignant
Co-founder of Under The Roof Decorating
Picture of the "gang" taken at our 2014 get-together.