Bring the Beach Home with One Large Canvas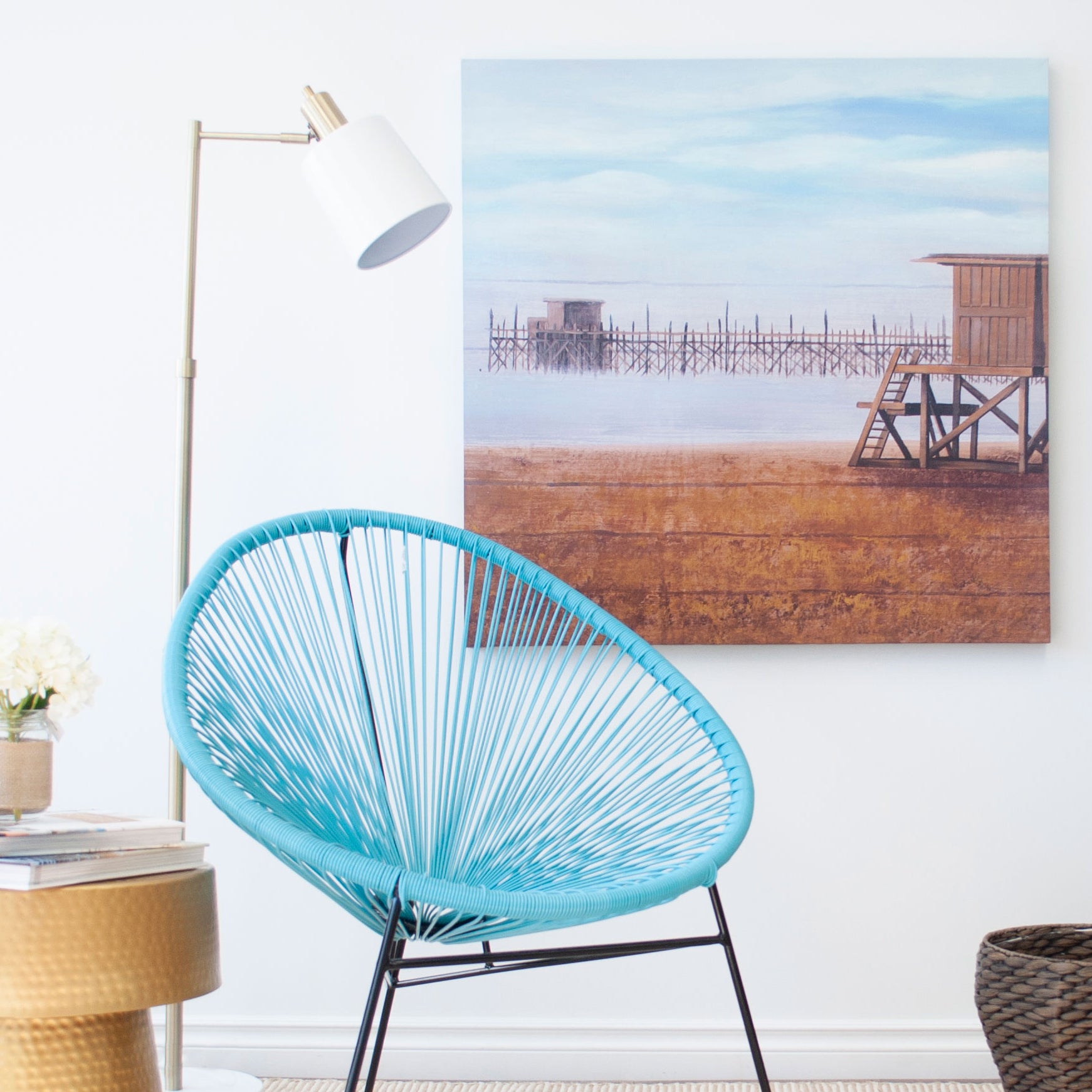 Let's be real: we all want more vacation days than we can get. But with busy schedules, summer dwindling down, and tight pockets, that's not always possible. So the next best thing? Bring the beach inside! See how we created a summer beachy home with one large canvas, the perfect escape you can access all year round.
Beach backdrop
The key is in finding a canvas or art piece that just exudes summer vibes. This was it for us. We love the pier and the lifeguard tower in this canvas. It's so serene and makes us wish we were actually there.
Finding the right height to hang
What's the best height to hang your pictures? 
This is one of our most frequently asked questions, but unfortunately we don't have a magic number to go by. Instead, our hard and fast rule is to always hang your frames in relation to the surrounding furniture and décor below. 
If it's a seating area, the canvas should be hung lower, so that the middle of the canvas meets you at eye level when you're sitting. If it's in a hallway or space where you're just passing by, then the middle of the canvas should meet your eyes at your standing height. 
How we hung our canvas
The canvas we chose was large (33" x 39.5"), but very light. Since canvases rarely come with hardware, the perfect hardware to hang our piece was CanvasHangers™. Simply place the brackets on only the top corners of the canvas and hammer down the nails. It's just that easy. 
Note about installing any type of hardware: Make sure you know which side of the canvas should face up when installing the CanvasHangers! The worst is when you flip it over and realize you've installed them upside down. It might seem like a silly mistake, but we've been there!
Now comes the fun part. Once you've determined the right height to hang your canvas, use a level to ensure the piece is straight. Then place your canvas on the wall and push into the top corners where the CanvasHangers are.

See this short video on how to hang our canvas.
If your canvas is too big to push into the wall at once with both hands, you can start with pushing in one corner, making sure it's still level, and then pushing in the other corner. Look how the canvas is perfectly flush against the wall!
For our number-savvy friends, we hung the bottom of our canvas 27" from the floor.
Styling tips
To pull together our beachy look, we added a stunning blue acapulco chair as our featured piece of furniture. If this doesn't say summer, then we don't know what does. It's airy, stylish, and doesn't break up the space visually. The weave just drives our beach destination home.
Tropical plants were a must to this space, so we added a fiddle leaf fig and another artificial plant. Fake plants are low maintenance and exactly what we need when we're on vacation mode. Besides, they make fake plants look so real these days we just couldn't resist.
We used a sand coloured rug, gold lamp, and gold end table to further inspire our beachy space. These light and neutral colours emanate a true beach, don't you think? 
And there you have it - your summer escape inside your home! This is a great way to extend summer without actually having to book a flight. As summer's drawing to a close, we're holding on to every last bit of sunshine we can get. What are your end of summer plans? Let us know in the comments below.
Shop our online store.
Thanks for hanging around!