What's your Christmas Tree Style? Classic? Rustic? Scandi? Black and White?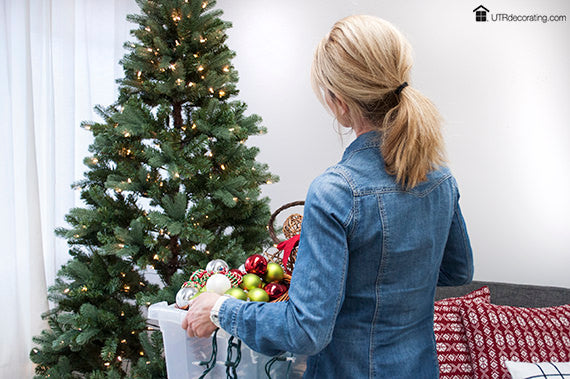 OMG! It's that time of year again, when the house gets turned upside down to make room for holiday decorations. I absolutely love the holidays but honestly, sometimes I need a little inspiration or "a kick in the pants" to get started.  If you feel that way too, you'll love this article. I've been researching ideas on how to decorate my Christmas tree because I want to do something different this year. Since I'm on the research train, I thought I'd share my findings with you. Are you ready? OK, let's go Christmas shopping together. ****Written by Liette, Co-Founder of UTR decorating.)
OK…WAIT….DON'T SCROLL DOWN YET…..because I need to give you some warning about the following pictures.
Be prepared to see a lot of different looks, and by that, I mean some are really out there. But, that's my point. If you're in the mood to switch things up, keep an open mind when you see these pictures. If none of the styles appeal to you, head to my Xmas tree Pinterest board, where you'll find over 100 different looks to choose from. Yes, I've been very busy pinning!
All of the trees out there are beautiful, and every one is unique. It's all about choosing which style and look you want to achieve this holiday season and what you think will work best with your décor. OK, now you can scroll…
Did you find a tree you like? Or are you curious to see more trees? Go to this link (my Pinterest board) to continue your tree shopping.
Once you've picked a look for your tree, you'll probably be eager to get it up and get decorating! So if you're wondering what the etiquette is on when to deck the tree (and the halls) and when to take it down, here are some fun facts that I dug up. If you think it's not important, it's actually a hot holiday tip! After all, you don't want to be the neighbour on the street that everyone loves to hate because of your poor holiday etiquette, right?! Believe me, that exists!
When to put up the Christmas tree? 
It all depends on if you have a real tree or a fake (faux) one. A real tree is good for about a month, so plan accordingly to make sure that it looks good and healthy on the big day, and don't forget to water it. With a fake tree, most people have it up by the first weekend of December. Folks from the United States will often have their tree up in time for Thanksgiving (the 4th Thursday in November) or shortly after. Others will wait till 12 days before Christmas to set up their tree.
When to take down the Christmas tree and decorations?
According to this article and others I've read: "Your Christmas tree should be down by the 12th day of Christmas, which always falls on January 6. This date marks the Epiphany – the day when the Three Wise Men visited the baby Jesus, Mary and Joseph in Bethlehem. The Epiphany is the official end of the festive season." I didn't know that! Did you?
As a general rule, December 1st is usually when most people start decorating, turn on the Christmas lights inside and out and start blaring the holiday tunes. Decorations are usually put away right after New Year's Day (we're sick of decorations by then aren't we) so that the house is back in order by the time the kids go back to school and/or when we get back to work.
Pssst…Make sure to come back to the blog to see how I've decorated my tree!
Did you find one that you like? Which one? Do tell do tell, I'd love to know.
Thanks for dropping by!
Liette Tousignant
Co-Founder of Under The Roof Decorating