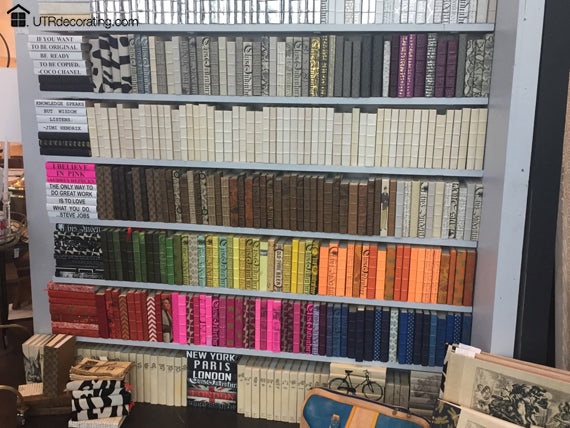 Styling a bookshelf is not easy and it's even more challenging when you have a mishmash of books. There are a few tricks though you can use to get those picture perfect shelf looks you see in design magazines, TV shows and on Pinterest. 
One way you can sort your books is by color. It's very eye-catching and because the focus is on color, slightly damaged books, old university lecture books or kids' books fit in perfectly in this type of display. I've never tried this color styling technique but our design director has and he loves it. He displayed his books rainbow style starting with red, orange, yellow, green… you get the idea. Tour his beautiful mid-century modern house here.
Notice anything different about the way these books are displayed? Instead of showing their spines,  they're displayed with the pages facing out. It creates a monochromatic display and the "cool" part is that you don't have to worry about colors clashing with your décor or people judging your reading material. Lol! This trend has been around for a few years but I'm not sure it has garnered much attention. (Maybe because it makes it impossible to find the book you want to read.) People either love this trend or hate it. Picture taken at Mitchell Gold & Bob Williams in NYC.
Now, warning, don't laugh at this next trend. On a recent trip to New York and Montreal, I saw white books displayed everywhere from bookshelves to coffee tables to nightstands. It actually looks very stylish and creates a soothing zen-esk feeling.
I took this picture at Restoration Hardware, a top notch furniture store in New York. As I got closer to the bookcase/étagère, I realized that the books were painted white. Yes, I'm not kidding. As you see in the next picture, you can spot paint drips. Just to show how big this book painting trend is, I found a few "how to" projects on Pinterest like this one. I swear, I can hear some of you chuckling all the way from here. 
Here's another way to get the white book look but without paint. Simply wrap books with white paper or white linen fabric for something more elegant. I love these styles because they're chic and evoke peacefulness and serenity. The following picture was taken at Limuro in Montreal. 
While some book styling techniques are more drastic than others, I love the white book look. Just for the fun of it, I'll try spray painting some old books because I've never done it and I'm curious to see if my painted books will turn out as beautiful as the ones I saw at Restoration Hardware. Stay tuned for a DIY coming soon.
Do you have any styling ideas for bookcases? Go ahead and share them in the comments box below for everyone to read.
Thanks for stopping by! I hope you're having a great day.
Liette Tousignant
Co-Founder of Under The Roof Decorating
Make sure to sign up to receive our decor and design blog posts delivered straight to your inbox