Before and after: dining chair makeover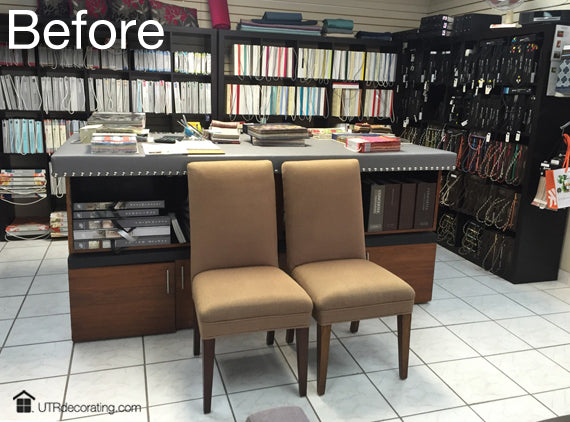 I bought these chairs over 12 years ago. After renovating and changing our wall color, the chairs' dated fabric clashed with our new décor, so I retired them to the basement a few years ago. When I came across very similar chairs dressed in beautiful striped fabric, it convinced me to give my old chairs a new lease on life and give them a makeover with new upholstery. Wow! I'm so glad i did it, I've fallen in love all over again with my chairs. 
This is the inspiration picture that convinced me that my old chairs could look as good as these ones with an upholstery makeover. Before heading to the upholstery shop, I visited several furniture stores trying to find chairs just like the ones in the picture, but since I couldn't find any, I decided to have mine upholstered. I stopped by Simmering Upholstery Shop a few blocks down the street from where my office is located to meet with an upholstery guy.
After he confirmed that the chairs were in great shape, I decided to go ahead with a little upholstery magic. Since I was absolutely sold on stripes, I didn't even bother looking at any other patterns. Nattalia, the in-house designer, found almost the exact same stripes as in my inspiration picture. I knew large thick stripes would completely overwhelmed the chairs, and I wanted a more feminine delicate look for this chair makeover. To be completely honest, I wanted my chairs to look exactly like the ones from the picture – so that's what we did.
Upholstery info:
Fabric: cotton
Pattern: Thetis
Color: Storm
Scotchguard: yes
Yards: 4 yards in total ($45/yard)
Total cost: $950 CAD – includes fabric + labour + taxes
What a difference! The once dated chairs now look elegant and classy. The thin striped fabric was definitely a great choice, as it elongates the backs of the chairs and make them look even more stylish. The color is also perfect and so versatile – the chairs fit in any color scheme.
Although having the chairs reupholstered cost more than I initially expected them to cost, I'm really glad I went through with the project. In the end, my chairs look exactly like the ones in the picture, and that's what I wanted. My only regret is not having done this chair makeover sooner.
At one point I considered giving the chairs away. I'm so glad I didn't! I'd feel so jealous if someone else had transformed the chairs the way I did and showed me a picture. So before giving anything away, or even worse before taking anything to the landfill, ask yourself if it can be upcycled and given a new lease on life. It's good for the environment and good for the soul.
I've had the chairs for 12 years, and now that they look this sexy, I'm sure I'll get another 10 years out of them. That was money well spent. I'm happy!
Do you have an upcycled/recycled project you want to share?
Liette Tousignant
Co-Founder of Under The Roof Decorating