Bedroom décor: What to hang above a headboard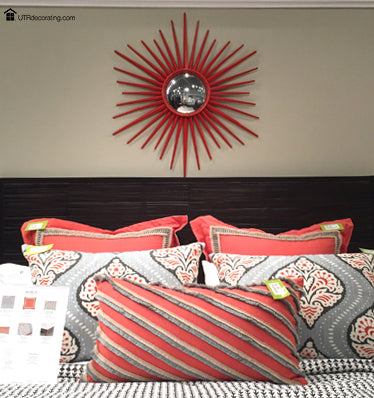 In most cases, the bed is the focal point of a bedroom, and the eye is naturally drawn to the space above the headboard. Choosing what to hang in that space can pose a real challenge. Since picture frames are usually the first choice of art for many, I thought I'd share some bright, fun and creative decor ideas. If you've been holding off on hanging something above your bed, I hope this post will inspire you to get the bedroom decorated.
I just returned from High Point, North Carolina where every six months the largest market for furnishings in the world is held. I visited the showroom of Eastern Accents, a manufacturer of luxury bedding, and saw all the beautiful bed displays shown below. Since one of the most popular question I get asked is "What to hang above a headboard?" my visit to their showroom inspired me to write this post. This is not a sponsored post, I took all the pictures and the opinions are all mine.
1. Mirrors
This starburst mirror is a great statement piece and adds a bright pop of color to the space – it's like a "burst" of energy. Its coral color ties in beautifully with the pillow shams of the same color.
Since there's lot of stripes and other square patterns on the wall, the round mirror adds softness to the space. It's quite large, and would be ideal for reflecting daylight. Here at the store, the reflection was of the busy industrial pot lights. In a bedroom with a gorgeous light fixture, it would be a show stopper.
2. Headboard as focal point
This curved upholstered headboard with nail heads is so pretty that it doesn't need anything else around it to accentuate the focal point. Additionally, it's tricky to hang something above such a unique shaped headboard, so leave it alone, don't detract from it. The cream color of the headboard and bed sheets create softness and elegance in this room without being overly feminine.
3. Wallpaper frame
This is very different and unique. The wall space from the floor to 2/3 up the wall was wallpapered and framed with a thin brass frame. It somewhat looks like a giant picture frame. I love how the wallpaper print is seen through the design of the wooden headboard. What a great mix of patterns and texture to create a bright focal point.
4. The window is the art 
Especially in small rooms, or oddly shaped rooms, the window is the best focal point. Center the bed with the window, hang a pretty sheer panel flanked by heavier fabric side panels to frame the bed nicely, and voilà, you've created a strong focal point without even hanging art.
5. Plates 
Don't save Grandma's plates for the kitchen. They're quite eye catching in the bedroom too! Hang them in the shape of an arch to mimic the round shape of the headboard. Since the bedding has very busy patterns, the simple white plates add texture add brightness to the wall without competing with the rest of the décor.
6. Basket case
Wouldn't this look terrific in a cottage or somewhere in a tropical environment? There's so much going on with patterns, color, texture, wallpaper, drapes, cushions, and plants and yet everything works together. The large wicker basket is the center of attention, while everything else plays a supporting role. This is definitely a case of more is more, not less is more.
7. Picture frames
This is a look that we see very often in bedrooms. The large white mats and white frames pop against the dark wall. It's fresh, symmetrical and creates a horizontal arrangement that reflects the straight edge of the headboard.
I usually tend to be very conservative when hanging artwork in bedrooms, but my visit to
Eastern Accents
was very refreshing and inspired me to be gutsier with my decorating. I've shown lots of busy patterns which might not necessarily fit your taste, but might be inspiration for your master bedroom or other bedrooms that need a strong focal point. As shown, you can go with a sparse look, a busy one or let your headboard be the art. There's no wrong choice, you can be as creative as you want. In the end, it's your private space, so no need to feel like you'll be judged, hang what you love.
Which headboard is your favourite?
Make sure to sign up to receive our design and decor blog posts so you can have our latest posts delivered straight to your inbox.
Liette Tousignant
Co-Founder of Under The Roof Decorating