Backyard Oasis – a Little Piece of Paradise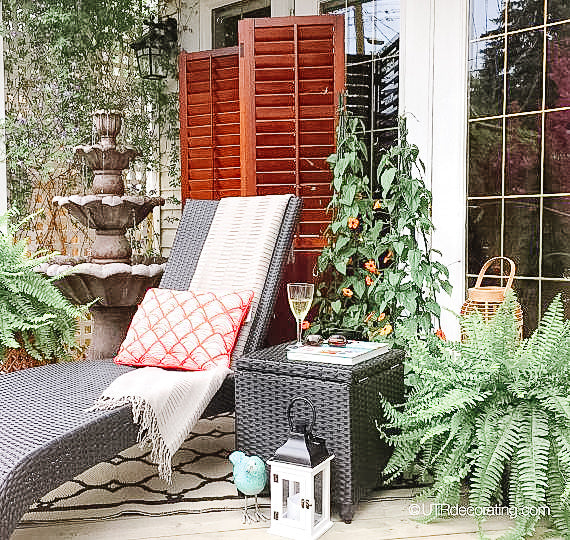 Imagine coming home to your very own private oasis after a long tiring day.  It's something I've been dreaming of for many years and I finally did it.  I transformed my tiny urban backyard deck into a little piece of paradise without breaking the bank or undergoing any major renovations – and I love it. *Written by Liette, Co-Founder UTR. 
Living in the city has its advantages and unfortunately its disadvantages.  The lack of privacy and noise were the main issues I wanted to address.  My husband and I built a simple white lattice screen to create privacy from the neighbors and planted a beautiful Blue Bird Clematis vine to soften its look.  This vine grows back every year, produces gorgeous blue mauve flowers in the spring and requires no maintenance which is perfect for me.  The water fountain camouflages the noise coming from the street and creates a Zen ambience that is calming and relaxing.
A lounge chair was the prefect choice for the deck, it's comfy and makes you feel like you're at an expensive resort.  I added texture and cozyness to my tranquil space with a gray throw and a patterned outdoor cushion.  Having different colored cushions is an easy and affordable way to change the look and feel of a space.   Use bright pillows to add a pop of color and softer colors to create a spa-like feel.
Since I'm not much of a gardener, I picked greenery that is easy to care for such as this Black-Eyed Susan Vine  and ferns and with different foliage to add texture and interest to the deck. I've completed the look with some of my favourite accessories: a couple of battery operated lanterns that are safe to use inside or out, a cube for easy storage and a blue ceramic bird that is quirky and fun.
Here's how how my newly transformed deck looks like from the living room window.  I can honestly say that I have extended my indoor living space outdoor.
I'm very pleased with the results, I have created a very private space where I can relax, read or simply enjoy a glass of wine.  Au revoir!
Do you have any DIY backyard projects planned this summer?
Liette Tousignant
Co-Founder of Under The Roof Decorating