Afraid to hang stuff on plaster walls?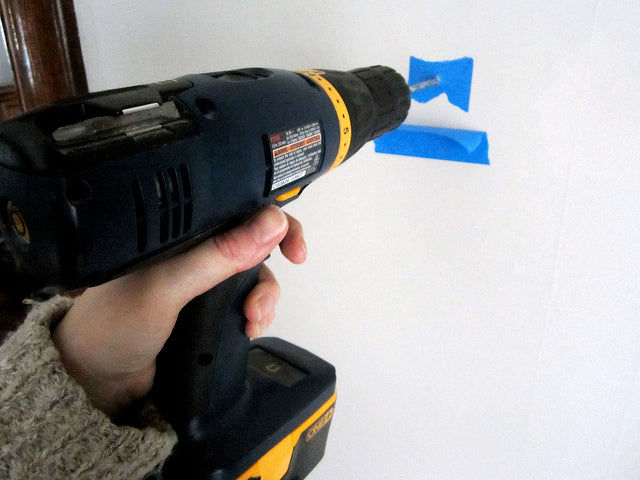 Hammering nails into a plaster wall can be a nerve wracking experience. After all, the plaster might crack, crumble or even chip off, damaging your wall. Don't be afraid! It is possible to hang artwork on plaster walls without causing damage, here are a few options to consider:
Drill and Hang:
Once you know where to hang your piece (see Hang & Level below) cover the mark with painters' tape or masking tape to prevent the plaster from cracking or crumbling around the nail hole.
With a pen, mark the hanging spot over the tape.
At slow speed, drill a pilot hole using a drill bit just big enough for the size of the hardware you'll be using.
Remove the tape and put your nail, screw or toggle bolt in the hole and hang your picture.
Watch how home improvement expert Ron Hazelton drills into a plaster wall without cracking it. Although the segment is only 1:41, fast forward to 45 sec to skip the intro. http://www.youtube.com/watch?v=_IuNkiiqhO4
Finding the right spot on the wall for your pictures:
Hang & Level works extremely well on drywall and on other wall surfaces, including plaster. The only difference is, that over time the steel pins on the back of the tool might become dull when used repeatedly on a hard surface.
If hammering into the plaster is not an option:
Use double sided tape or hooks such as 3M Command products. Make sure to buy the recommended strength to hold the weight of your piece and for safety reasons, refrain from hanging anything with glass.
If you live in an older house, you might already have a picture rail to hang your art from. If not, you can easily install one. Choose picture rail hooks to fit your décor, find the right height for your art and use decorative chains or wire to hang your pieces with.
Liette Tousignant
I'm passionate about picture hanging and decorating (and I'm also the Co-Founder of Under The Roof Decorating)
Image credit: DécorAdventures