5 minute IKEA dresser makeover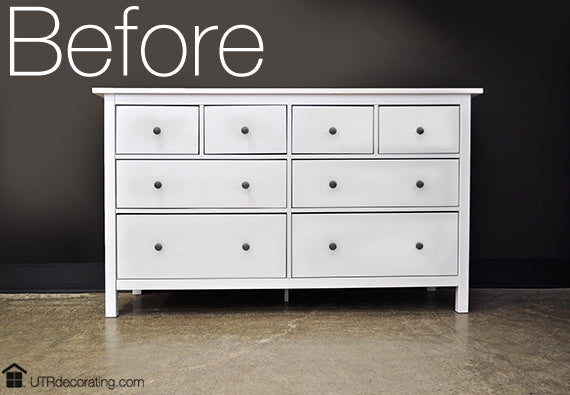 I'm feeling quite self-conscious as I'm writing this article because I just read Is there an age when you should stop buying inexpensive (IKEA) furniture? Personally, I don't think so and I'm not ashamed to say that I'm 55. My shopping philosophy is simple:  if you love it, buy it. On this note, I bought this white IKEA dresser that was the perfect size for a guest bedroom, the only problem is that it lacked pizzazz. The solution? New knobs! It barely took 5 minutes to transform this plain dresser from blah to beautiful. Here's how we did it!
What style do you want to create?
First, determine the overall look and style you want to create. I wanted to glam up my dresser so we bought bright brass knobs to echo the brass rim of the mirror. That small change completely transformed the dresser. Within minutes, it went from yawn to WOW – a much more expensive and sophisticated look that was the chic and elegant style I wanted.
See the before and after difference?
Shopping for knobs
Shopping for knobs may sound simple but trust me, it can be quite overwhelming especially when you're at the store faced with hundreds of choices. So, here are a few helpful tips to save time and eliminate any potential extra trips to the store:
Take one of the "old" knobs off the dresser to bring to the store – it'll make it easier to choose a new knob that covers the same surface area or bigger.
Get a pull that has a screw the same length as the old one to ensure the tightness of the knob.
Keep the number of knobs you need in mind when pricing them out.  The total can add up quickly. My dresser has 12 pulls, I paid $5.00/pull X 12=$60 CAD.  Not a bad investment considering that it almost feels like a brand new dresser.
Of course I kept the old knobs. I'll use them on another dresser, or I might even spray paint them for another project. Don't be surprised to see them reincarnated into a future DIY.
P.S. If you are torn between 2 options, take them both home, but you'll have to take a trip back to the store. 
Changing the knobs took only 5 minutes; shopping was the longest part of this mini makeover. Fortunately, I knew exactly what I wanted, so, as soon as I spotted the brass knobs I knew they were the right ones.
This is the type of makeover I love doing. It doesn't involve any painting, glueing or anything messy and yet the results are stunning. No, I'm not lazy, it's just fun to see immediate results, especially when they deliver big style power.
P.S. If you want to see how I hung the large mirror above the dresser, simply clickhere.
Do you have any furniture makeover tips you'd like to share? Go ahead and share them in the comments box below so we can all learn from each other and become fearless decorators.
Thanks for stopping by! I hope you're having a great day.
Liette Tousignant
Co-Founder of Under The Roof Decorating