How to Create an Instant Dining Room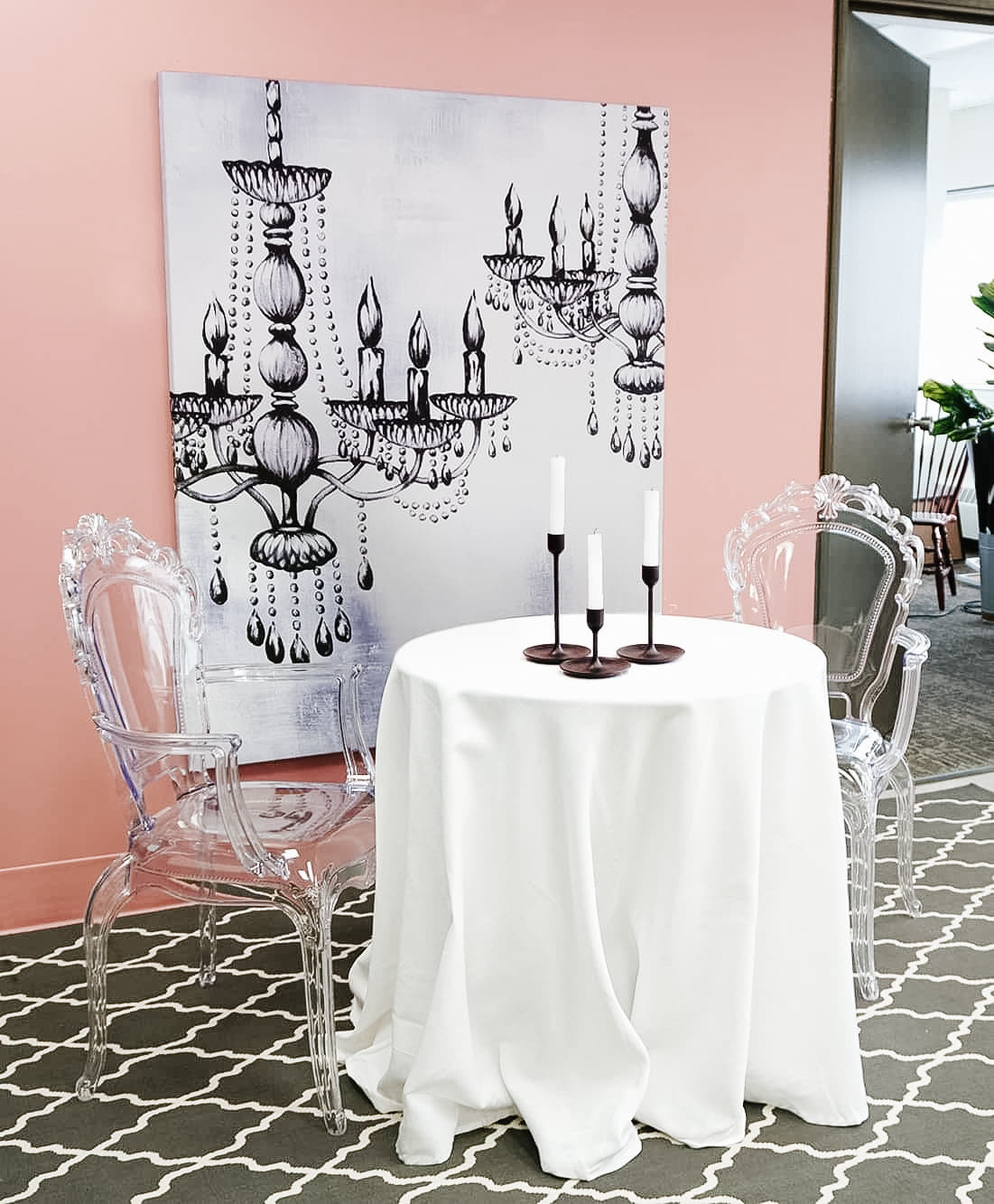 Working with small spaces doesn't mean you can't think big in terms of being creative. 
No dining room? No problem! See how we created a dining room in a space that didn't have one. It's amazing what you can do with a bit of creativity. We transformed our small footprint into an elegant and functional space.
Here's how we did it:
Step 1: Use the furniture you already have
We started with a blank wall as our backdrop and an old round table that we dressed up in a white tablecloth. You can't tell that our table is old and all scratched up, can you? No shame in hiding it! 
Next, we introduced two glossy Lucite chairs. The transparency of the chairs provides lightness without taking up a chunk of visual space, a vital formula for small spaces. 
Step 2: Create a focal point with art
The canvas art we chose is big and bold, and is the focal point of the room that instantly converts the small space into a pop-up dining room. Although the canvas is quite large, it is super light to hang and not expensive, so you can decorate large walls without breaking the bank.
Step 3: Hanging at the right height
With a big canvas like this one, we tested various heights to find the best position, from entering the room to sitting down at the table. Unfortunately there's no one-fits-all rule but if this helps, we ended up hanging our canvas 18" from the floor. Having someone help with this part is very useful, to judge the height from a distance. 

How we hung our canvas 
Finally, we installed our trusty CanvasHangers™ to the top corners of the canvas. Watch this short video below.
For a more sophisticated look, we added candle holders and voilà! You're ready for dinner for two, or as we'd like to say it here, table pour deux. We can't help but think of Beauty and the Beast's Lumière and we're not mad about it.
About our blush wall
Our blush wall brings a vibrancy to our dining room, creating a romantic ambience. Blush is fresh and on trend, and strikes the perfect balance between soft and elegant, but not outright girly.
Don't let your small space limit your creativity. Sure, you can scale down your ideas, but always keep dreaming big!
Got questions? Thoughts? Let us know in the comments section below.