How to hang pictures above a couch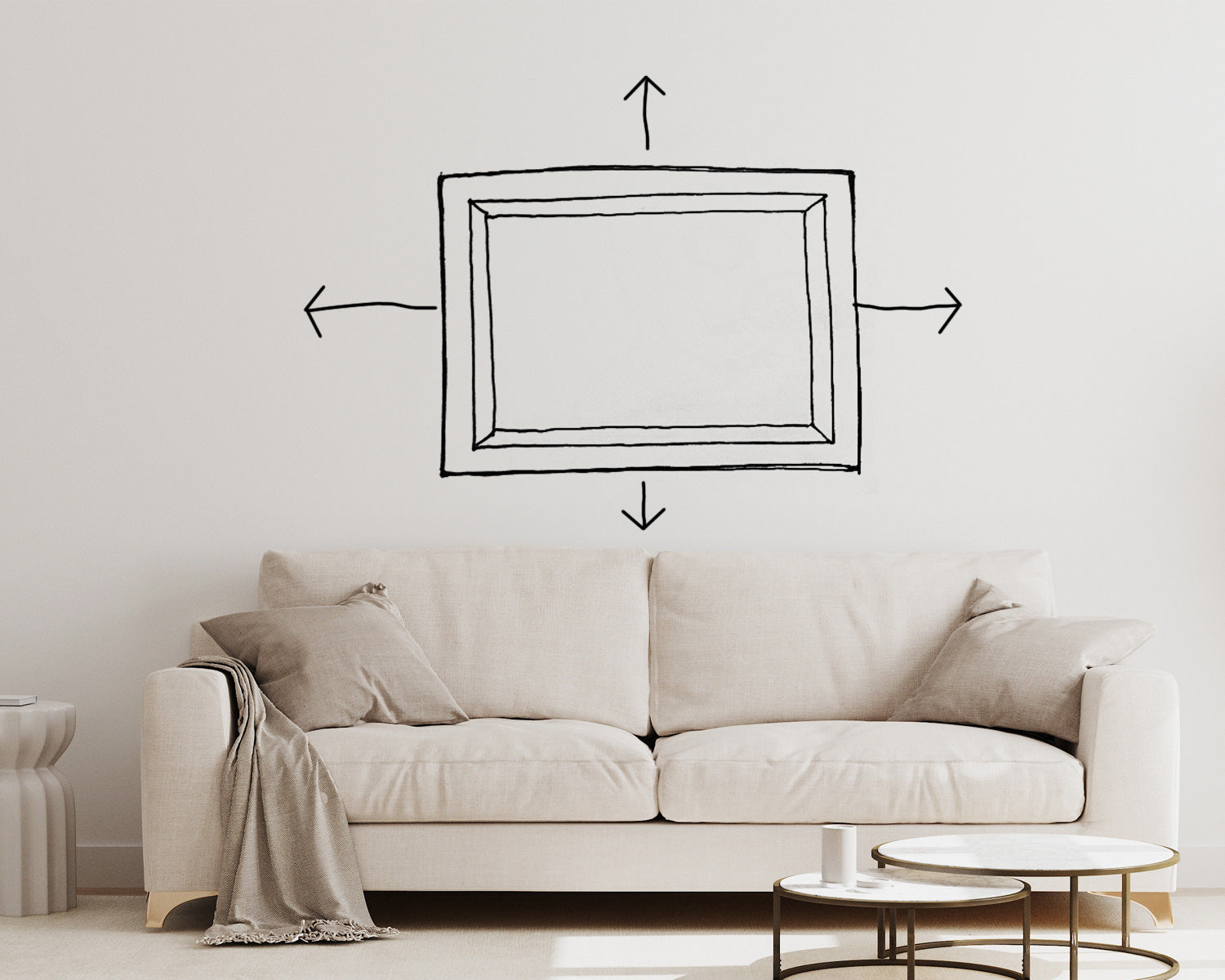 Displaying artwork or pictures over a couch is an easy way to create a focal point in your living room. Here are a few tips to get the job done well!
What is the right size?
As a general rule of thumb, your picture should not be wider than the couch as this will overwhelm the furniture rather than enhancing it. In order to create balance in your space, your artwork or gallery should be close to 2/3 the length of the couch.
How high should I hang my picture?

When hanging above a couch, the bottom of your artwork or frame should hang 8" to 10" above the back of the sofa. It is important to hang your artwork low enough so you can enjoy it while you are sitting.
How far apart should pieces be spaced in a gallery?
When hanging a grouping of pictures, you should leave 2" to 5" between each frame for a balanced look.
Our SpacingStrips™ make it super easy to precisely space the frames in your gallery. As shown below, you can use SpacingStrips  to achieve a spacing of 2" or 4" depending on your preference.
What should I use to hang my artwork?
At UTR Decorating we have designed a number of products that make picture hanging easy regardless of whether you want to hang a picture frame or canvas. Our CanvasHangers™  install in the top two corners of your canvas, using our Place&Push® technology. This product design allows you to easily place, level and push your canvas into the drywall for a secure hold. Your canvas will hang flush to the wall for a professional look.
If you are hanging a picture frame, our
Hang & Level™
makes it easy to visually place your items and mark where the nail should go, which eliminates mistake holes. Once you have marked the perfect spot, you can use our
DécoNails™
, which are specifically designed for securely hanging items up to 20 lbs in drywall.
For more tips on how to hang a gallery wall check out this related blog post
How to hang three pictures above a couch
.
Have any other decorating questions? Email us at:
questions@utrdecorating.com
and we'll do our best to help you
Create the home you love™
Reviews (3 comments)