How to freshen up your walls with DIY art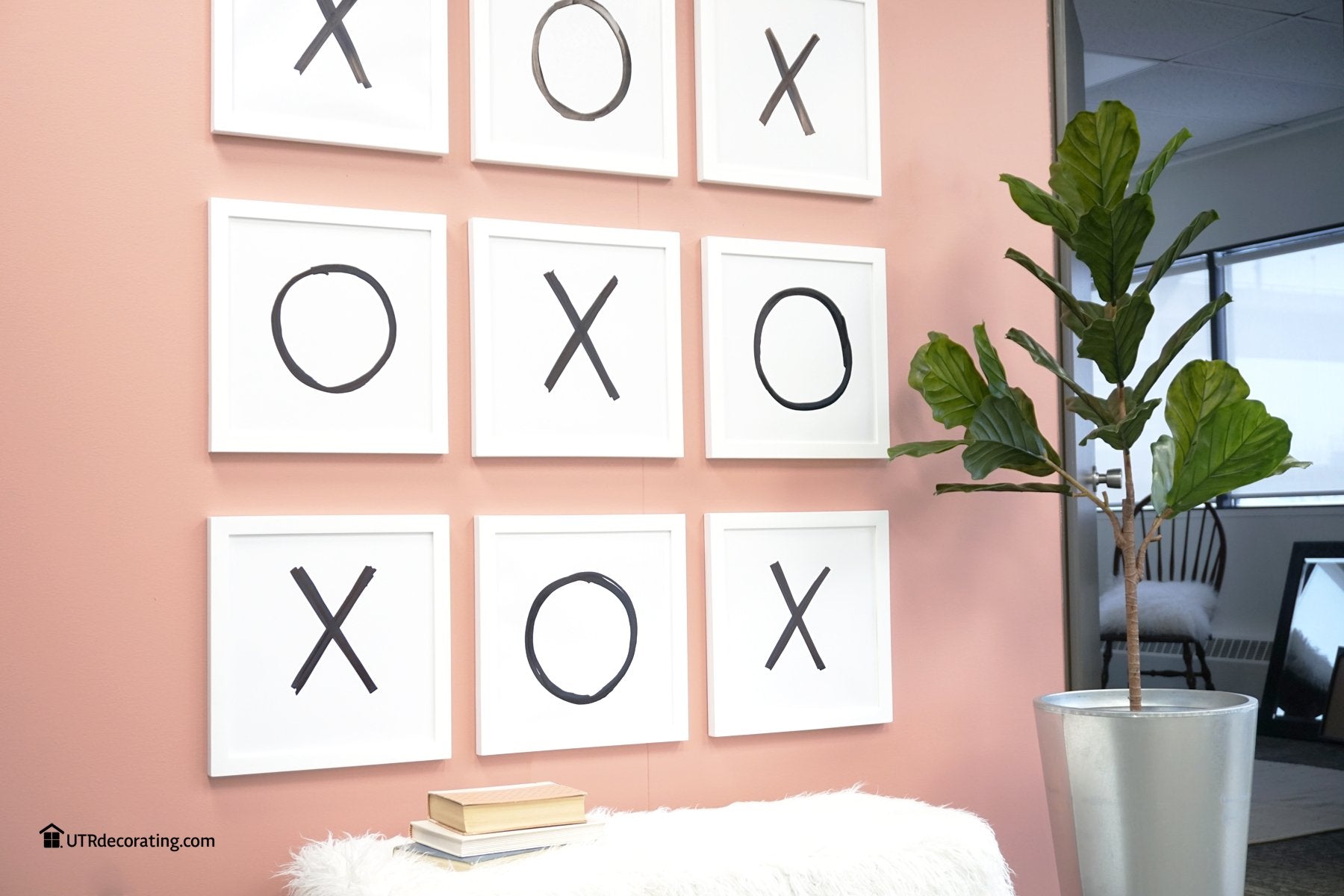 You'd think with all the pretty pictures we see on Pinterest, Instagram, Facebook, or even the decor magazines and TV shows, that we'd be fuelled with inspiration to decorate our walls. So why are we still struggling with decorating our spaces? If you are feeling stuck and need budget-friendly art ideas to jazz up your walls, this is the perfect project for you! You don't have to be qualified or crafty to create this XOX wall. In fact, it's all about being perfectly imperfect.  
Our Starting Space:
This gorgeous floral gallery from last spring is well loved, but we thought this space could benefit from a fresh look for the New Year! Our inspiration for this XOX wall came from Pinterest (what would we do without it?) and decided to recreate the look while adding our own stylistic touches.
Keeping the beautifully blush wall as our background, by switching up the art we are able to bring new life and energy into the space. Since only nine frames were needed for the look we wanted, the top row was removed. Changing up your decor may seem daunting, but sometimes a simple swap can go a long way!
If you want to see how we hung our frames, click here for the 'How To' steps.
What you will need: 
White Paper 
Sharpie Magnum Marker
Ruler 
X-Acto Knife
Picture Frames 
Freehand 'XOX' Drawing:
As you can see all the X's and O's were done free-hand. Although we didn't use a stencil, there are few things we learned along the way that could help you get that "perfectly imperfect" look without wasting too much paper!
Our Tips:
First, decide on the font and size of the X's and O's you want to replicate. We drew a few samples to start and inserted them in our existing gallery to get a feel for how they'd look in the space.  (And we're glad we did! We originally thought our letters would cover the entire frame, but it was too big to scale back. )
Our goal was to have each letter centered on each frame. To perfect this we practiced a bit to avoid making mistakes on good paper. Alternatively, you could outline each letter in pencil before using the marker, but we thought that seemed less natural and decided to go with the freehand approach.
Take time to stand back and assess your wall display. Are the letters big enough and "thick/fat" enough to enjoy from a distance?
Once you have a "good" example of an O and an X, do all the O's and then all the X's (or vice versa). Don't alternate, just stay focused on the shape you're drawing. 
You can go over each letter twice with the marker to get the right thickness. (P.S. the ink dries very quickly, so don't worry about smudging your hands!)
If you have an existing gallery like we did, number the frames using painter's tape so you can reposition each frame in its original spot. This way you don't have to go through the "re-hanging" phase which can be intimidating.
We took the frames down one at a time, and re-hung each frame as we went. This gave us a chance to assess the wall after each frame was placed.
We left the floral art and mats in the frames, and added our Os and Xs drawings on top. This way the floral art won't get damaged and we'll always know where it is in case we want to reuse it.
Lastly, reposition the frames in the same spots where the floral prints were and remove the painter's tape numbers. Now it's time to accessorize!
To finalize the look we added a white faux fur bench, a fig tree, and a modern lamp to turn this space into a cozy spot to read or just hang out. Add a couple of cushions to increase the comfort level, and you're done!
This sweet and simple XOX wall would fit in just about any house. Go ahead and create an entire gallery like we did, or just hang a couple of personalized frames. It's uncomplicated, and the best part is that it's a one-of-a-kind piece of art.
If you'd like to buy picture frames like the ones used in this post, you can purchase them through our online store!
Send us a note in; we'd love to hear about the DIY projects in your life!
Thanks for dropping by!